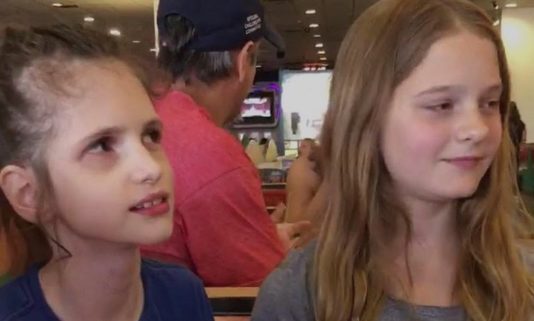 If you have a non-verbal child, chances are you know how hard it is for them to make friends. That's why we know you'll love this video.
The mother of Carly Jade, a 6th grader with non-verbal autism, took the video at a local Chuck E. Cheese after she saw the way that Carly Jade interacted with her new friend, Zoe. Zoe is neurotypical, but seems to have figured Carly Jade out. As Shannon, Carly Jade's mom, explained in her Facebook post:
Our daughter Carly Jade, is in sixth grade and is nonverbal, but like every little girl her age, she wants friends and to be accepted, but because of her special needs, she's often overlooked… Carly may not be able to speak her mind but she definitely shows her feelings with gestures and sounds, she also hears and understands what is said around her..

So when we learned of a classmate, named Zoe, who took Carly under her wings, we were more than overjoyed!

We share this video to show everyone just how important it is to treat everyone equal… and how it captures what words cannot describe.
We'll let this wonderful video speak for itself:
Our daughter Carly Jade, is in sixth grade and is nonverbal, but like every little girl her age, she wants friends and to be accepted, but because of her special needs, she's often overlooked… Carly may not be able to speak her mind but she definitely shows her feelings with gestures and sounds, she also hears and understands what is said around her.. So when we learned of a classmate, named Zoe, who took Carly under her wings, we were more than overjoyed! We share this video to show everyone just how important it is to treat everyone equal… and how it captures what words cannot describe.

Posted by Shannon Sommers on Tuesday, May 23, 2017
https://autismawareness.com/wp-content/uploads/image-post-carly-zoe4.jpg
365
534
Rachel L. MacAulay
https://autismawareness.com/wp-content/uploads/autism-awareness-logo-340-156-300x71.png
Rachel L. MacAulay
2017-06-22 22:26:28
2017-06-23 21:25:29
She Has Non-Verbal Autism, But Her New Friend Understands Her Just Fine