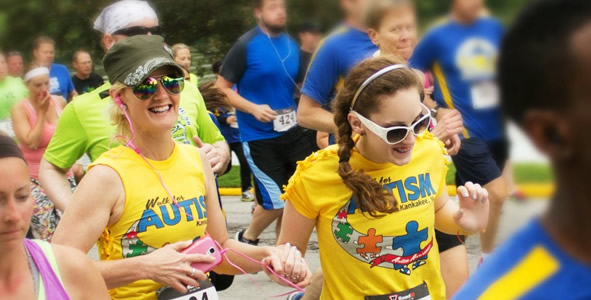 I hate running. Although I was an athlete in my younger days, I always participated in sports where running, if present, was a secondary activity—i.e., in field hockey I could focus on keeping the ball away from the goal (I was defense), and not on the running involved to do it. I also swam, so no running. But that doesn't mean I don't admire runners. To me, the sheer focus, training and determination engendered in running is worthy of any person's respect.
Enter Kiley Lyall. This Illinois native has been running since she was 8, despite diagnoses of autism, epilepsy and mild cerebral palsy. She started running 5K races with her mother, who also runs, to raise money and awareness for charities such as the Make-A-Wish Foundation. Just last year she ran, and finished, two half-marathons, even though she suffered two seizures while running in the first one. She successfully finished the Chicago Half-Marathon for a second time this fall.
Her mom, Kathleen, decided to enter Kiley in Women's Running magazine's cover contest for the January/February 2016 issue, because so many people told them both what an inspiration Kiley was to them. Although she doesn't talk much, Kiley's words, written in her contest entry, say it all: "Running has literally helped my brain become healthier! My autism doesn't take over my days anymore…when I run it relieves so much stress on my brain, allowing me to function much better through most days!"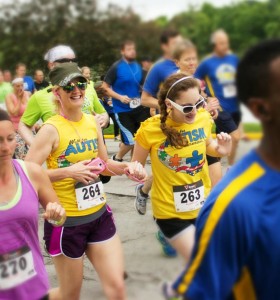 Kiley was picked as one of eight semi-finalists. After the voting on those eight had finished, Kiley was the hands-down winner, with more than 10,000 magazine readers voting, to grace the first cover of 2016.
In an interview with The Mighty before she was declared the finalist, Kiley explained: "Being on the cover of 'Women's Running' magazine would mean that I'm just a runner… I may have a disability, but I am conquering what a lot of women are conquering no matter what they look like and no matter their abilities."
Kathleen says that she and her daughter have talked about "what it's going to do to open doors" for other people with similar challenges to Kiley's. "Knowing that we can open doors for other athletes who may have cognitive disabilities but like to compete physically means so much to us," she told the Chicago Tribune. "It doesn't matter your abilities. It matters your heart and your spirit."
We know that there are many other runners, and athletes, with autism who are making amazing strides every single day. We hope that Women's Running magazines, by featuring Kiley on its cover, inspires even more people – whatever their skills – to go for their goals and dreams.
https://autismawareness.com/wp-content/uploads/image-kiley-lyall-featured.jpg
300
591
Rachel L. MacAulay
https://autismawareness.com/wp-content/uploads/autism-awareness-logo-340-156-300x71.png
Rachel L. MacAulay
2015-11-20 17:18:00
2016-03-08 04:16:41
Kiley Lyall: Runner Shows Heart and Spirit