Counteracting the Disappointment of Birthday Parties
There is only one thing worse than my 6 year-old high-functioning autistic daughter Polly not getting invited to birthday parties, and that is getting invited to birthday parties!
My girl has suffered from allergies forever, and has been on a heavily restricted diet since she was 2. Cow's dairy, gluten and corn-derived ingredients (of which there are many) are all on the banned list. I cook from scratch when we are home, but it can make life difficult when we eat out, and especially so when other people are catering for us.
Birthday parties are at the top of my list for causing stress and upset all round. In the early days of her allergies, and before her autism diagnosis, I thought I was doing the best thing by not making a big deal out of her being different to the other kids. I remember crying inside on her behalf when we arrived at the first-ever school friend party, and it was apparent there was absolutely nothing that she would be able to eat.
I watched her stare longingly at her friends stuffing their faces full of sweets loaded with corn syrup and cheap bread sandwiches. I witnessed the searing disappointment take her over, and knew that a huge meltdown would be on its way the second we got home. Next time around I went armed with back-up supplies to ensure that she wouldn't have to go through that again.
It didn't take me long to realise that the food would be a problem almost every time she went to a party, and that I had to figure out a solution to offset the heartache. So over the years I've come up with these fail-safe autism/allergy hacks that go some way towards counteracting the inevitable disappointment.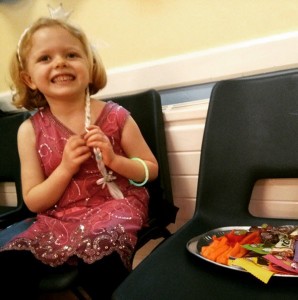 I contact the host in advance to find out what food they'll be serving. If it's a hot meal (such as pizza or nuggets and chips), I prepare a similar allergy-friendly version of the meal for Polly to take with her in a silver foil container. That way she can join her friends when they are eating and not feel too left out. If it will be a standard buffet of sandwiches and sweets, I send her with a bunch of her favourite snacks.
We always arrive at the very start of the party, which means that Polly gets to spend some time with the birthday boy or girl before the other kids arrive en masse, and it gets too hectic. We often leave a little early to avoid the crowds at the end.
Even if most of the other parents are leaving their kids alone at the party, I stay. That way I can keep an eye on Polly, and pull her aside if I can see that she's getting overwhelmed.
Praise, praise, praise! Throughout the party and afterwards I let her know how proud of her I am, and how well I think she's doing. This means so much to her, and makes her feel really grown up.
I never expect the host to do anything special for Polly, and am always incredibly touched if they do. We went to a party earlier this year, and the mum knew all about her allergies because she volunteers at her school. The mum had asked me in advance what her favourite snacks were, and when we arrived there was a whole tray of food just for her. To say that Polly was in seventh heaven would've been the understatement of the century! The photo above shows just how happy she was.
——————————————————–
After surviving a severely dysfunctional upbringing, Reneé is determined to ensure that her own children have a better start to life than the one she had. Last year she wrote her first book. Become the Best You is part memoir, part self-help, and details how she ditched negative influences and behaviour to break the cycle of dysfunction.
Read more from Reneé by visiting her website, Mummy Tries or follow her on Facebook.

Reneé Davis blogs at Mummy Tries about the ups and downs of parenting with her young family. Her husband Andy and children Polly (7), Clara (4) and Freddy (2) are her main sources of inspiration.

Latest posts by Reneé Davis (see all)
https://autismawareness.com/wp-content/uploads/cupcake-birthday-party.jpg
334
500
Reneé Davis
https://autismawareness.com/wp-content/uploads/autism-awareness-logo-340-156-300x71.png
Reneé Davis
2015-11-04 14:32:37
2016-03-08 04:16:41
Counteracting the Disappointment of Birthday Parties