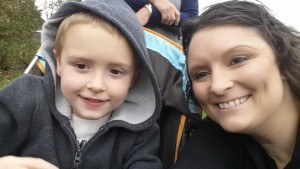 Raising a child who is unable to communicate has been one of the most challenging parts about autism. It is not simply just the fact that he is non-verbal but, at this time in his life, he remains unable to communicate. Even though we have shed countless tears together through our frustrations of not being able to communicate, Trenton has taught me that love needs no words.
Oh yes, I long for the day when Trenton can communicate to me. Just like any parent of a non-verbal child, we want to hear our child's voice. I am blessed with the fact that Trenton can say a few words, such as "juice", "cookie" and "ice cream." However, it doesn't go much beyond that.
Even though his words are limited and his ability to communicate through any other method is also limited, he has been the greatest teacher that I have ever had. He has taught me a lot about love, acceptance, courage, strength, patience, determination, perseverance and many other things in life.
I have learned through Trenton that there is much more in life than words spoken from our mouth. Trenton speaks volumes daily through his actions. Sometimes I have to dig deep to figure out what he is doing or what he is trying to relay to me. On some days it is not easy to figure out what he wants. I have gone into meltdowns myself trying to figure out what he wants because I was having a difficult time trying to figure it out. The anxiety that builds up in me when I am trying to figure it out before he reaches his climax and goes into a meltdown is very nerve-racking. I am sure most parents of a non-verbal child with autism know exactly what I am talking about.
Even though our days are not easy, they are very rewarding. The way his eyes light up when he knows I figured out what he wants is priceless. The little pat on the leg he gives me when he is happy is his way of thanking me. The happy noises I hear from him are the sweetest music that my ears have ever heard.
In our house, we do not need any words.
Nonetheless, just like any other parent who struggles daily raising a child who is unable to communicate, I dream about his voice. I dream about talking to him. I dream about the day he will walk up to me and say, "I love you, Mom. Thanks for everything that you do." Oh how I dream!
There is nothing wrong with dreaming about that day. Don't we all think about and dream about things that we want so badly in life? Some days are much easier than others.
Some days the frustrations are not as apparent as other days.
So, to the parents of non-verbal children out there, I understand your pain and struggle. I know the numerous tears you have shed for your child and with your child. The highway we travel on this journey in life is a tad bit difficult. However, the joy our children bring to us is magical. We can communicate with our child with no words at all. If you are like me, you have learned every sound that your child makes and you know exactly what he wants from that sound.
Never give up hope! Continue to cling to hope because it's what helps us get through our days. I understand how much you want your child to speak; I know how it feels to want something so badly that it hurts. However, until the day comes when we can hear our children's voices, let's be theirs for them.
Treasure the love you and your child share without words. It can be quite beautiful and amazing.
Love needs no words.
——————————————————–
Angela and her family reside in Terre Haute, Indiana, where they moved to get more help for her son with severe autism. She was born and raised in a small town in southern Illinois where her love for animals and helping others blossomed.
She enjoys sharing the honest and real side of autism through her writing. Her writing may not apply to every family with a child with autism, but it is sure to apply to the families raising children on the severe end of the spectrum.
To read more of Angela's journey please visit her website or like her Facebook page.

Angela Conrad is a freelance writer, mom to two boys on the autism spectrum, determined autism advocate, and fun-loving person. When she is not doing her advocacy work, she can be found managing her son's therapy schedules and all the other crazy things that life brings. She enjoys reading, exercising and helping others.

Latest posts by Angela Conrad (see all)
https://autismawareness.com/wp-content/uploads/image-family-love.jpg
333
500
Angela Conrad
https://autismawareness.com/wp-content/uploads/autism-awareness-logo-340-156-300x71.png
Angela Conrad
2015-11-04 16:51:32
2016-03-08 04:16:42
Love Needs No Words