U.S. Army to Open First Autism Therapy Center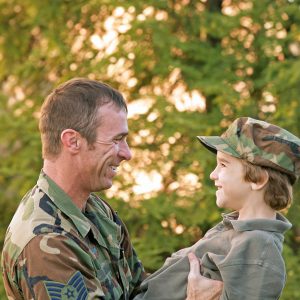 According to many military parents, the U.S. Department of Defense isn't the most progressive employer. Some parents of military dependents with autism—said to number 23,000—have been trying to find services for those dependents for years.
Others have found amazing services for their children, only to lose them when they've gotten reassigned to another base and country. Parents have even had their children waitlisted for multiple schools and centers, as they get on a list, get transferred, put their child's name on another wait list, and get transferred again. In the meantime, their child is missing out on vital therapies and interventions.
In a move to help alleviate this problem, the Army has announced plans to open its first therapy center for children with autism. The JBLM Cares Center will be part of the Madigan Army Medical Center in Tacoma, Washington, and is expected to start providing care in early 2017. The Center will be overseen by Lt. Col Eric Flake, a doctor and the director of Madigan Army Medical Center's developmental and behavioral pediatric program.
Lt. Col. Flake explained that the center will have programs to help parents whose child has just received an autism diagnosis, as well as "group after-school therapy opportunities." Furthermore, he said, "During the work day this will also be a therapy center where kids will get direct speech therapy, will get direct occupational therapy."
Gretchen Shea, a regional administrator for American Military Families Autism Support—an online group for parents—says that many families have mixed feelings about the announcement. But while it may be, in her words, a "drop in the bucket," we're big believers that small steps in the right direction are better than no steps at all. Sometimes small movement is all you need for something to gain momentum, and we hope the Department of Defense considers the need and opens more autism therapy centers where possible.

Avid reader, lapsed wanderer, reformed cynic, and sometime cyclist. Believes laughter really is the best medicine.

Latest posts by Rachel L. MacAulay (see all)
https://autismawareness.com/wp-content/uploads/Army-Father-Son-Social-Media.jpg
627
1200
Rachel L. MacAulay
https://autismawareness.com/wp-content/uploads/autism-awareness-logo-340-156-300x71.png
Rachel L. MacAulay
2016-06-27 02:11:14
2017-05-07 06:01:12
U.S. Army to Open First Autism Therapy Center