A Beautiful Evolution: One Dad's Autism Journey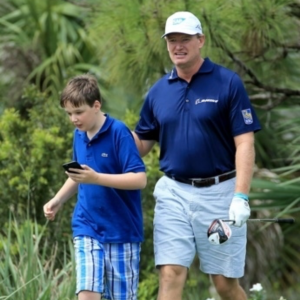 Pro golfer Ernie Els was used to the nagging voice in his head, especially as he was lining up his shots during tournaments. But he wasn't used to hearing it in his personal life, until his son Ben was born. Ben was slow to hit his development milestones and never met Ernie's gaze, and he was eventually diagnosed with autism. Like many parents of children on the autism spectrum, Ernie wondered what he'd done wrong—how he could have prevented his son from "getting autism."
Ernie's wife Liezl explained to the New York Times that they've all come a long way since those early, anguished and confusing days—especially Ernie. Ernie stated, "At 24, I was way ahead of my time as a golfer," he said, "but as a man I was nowhere." These days, Ernie's game is off more often than it's on, but he's found peace when it comes to his son.
In 2008, Ernie and Liezl decided to stop hiding their son's autism, and went public with the news. They started the Els for Autism Foundation to raise money and awareness, and moved from London to Florida. There, they decided to help construct a school for children on the autism spectrum, providing $6 million to get the Els Center of Excellence started. The school opened in August 2015, taking seven years to be built, with a price tag of $35 million. The Els Center enrolls 100 children, ages 3 to 14, including Ben Els. They plan to open another school, for older students aged up to 22 years, by next year.
Besides attending his new school, Ben also accompanies his dad Ernie on his weekend golf rounds, hanging out in the cart and reading some of his favorite books. Ben is not quiet, and Ernie used to spend a lot of time apologizing to the other golfers for Ben's noise. He no longer apologizes, as the other golfers are used to Ben. What's more, he no longer feels like he has to apologize for anything about his son. "I just go in his world. I'm kind of at peace because I'm listening to my boy being himself."
As Liezl explained: "Ernie's relationship with Ben has gone from, 'What am I going to do with this kid?' to 'When can I spend time with him again?'" she said. "It's been a beautiful evolution."

Avid reader, lapsed wanderer, reformed cynic, and sometime cyclist. Believes laughter really is the best medicine.

Latest posts by Rachel L. MacAulay (see all)
https://autismawareness.com/wp-content/uploads/pablo-10.png
1024
1024
Rachel L. MacAulay
https://autismawareness.com/wp-content/uploads/autism-awareness-logo-340-156-300x71.png
Rachel L. MacAulay
2016-06-26 23:45:42
2016-06-27 00:36:40
A Beautiful Evolution: One Dad's Autism Journey