This UPS Man Makes Very Special Deliveries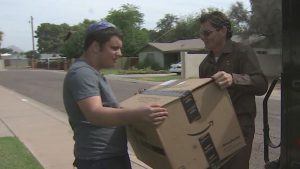 Do you know that giddy feeling that you get when the UPS man drops a package off at your door? Even if you know exactly what's in it, it can still feel like your birthday. So you'll understand why 14-year-old Asher Schnitzer loves the excitement of a UPS delivery.
For eight years now, Asher, who has autism, has been on a first-name basis with Mike, the UPS man in his Phoenix neighborhood. And for just as long, he's been calling Mike every morning to check on his deliveries.
"He asks how many packages there are, what's in it and stuff and I just tell him you know I have one package and he'll have to find out what's in it," Mike told Fox 10 Phoenix.
If he has a package for Asher, Mike tries to stay a little longer than his typical drop. Asher's mom Raquel offers for Mike to come in and have some food. If there are no UPS packages for the Schnitzers or their neighbors, Asher asks Mike to drive by and honk. As long as he has time, he does just that.
Because he knows it's important to Asher, Mike tries to swing by when he can, and he says he doesn't mind the early-morning calls, either. "I just try to put myself in his shoes and his family's shoes and all of that and just say hey you know it's not really that big of a deal to take a phone call or do a little bit of extra, so why not do it," he said.
"Whether it's getting a package or the neighbors getting a package or just seeing Mike, that's enough of a buzz for him that it keeps him going," said Raquel. And Mike has become like one of the family, even celebrating Hanukkah with them.
Now that's a pretty special delivery.

Avid reader, lapsed wanderer, reformed cynic, and sometime cyclist. Believes laughter really is the best medicine.

Latest posts by Rachel L. MacAulay (see all)
https://autismawareness.com/wp-content/uploads/UPS-Mike.jpg
354
363
Rachel L. MacAulay
https://autismawareness.com/wp-content/uploads/autism-awareness-logo-340-156-300x71.png
Rachel L. MacAulay
2016-09-29 16:11:53
2017-05-07 05:59:43
This UPS Man Makes Very Special Deliveries