On the Days I Want to Scream at the World, I Do This Instead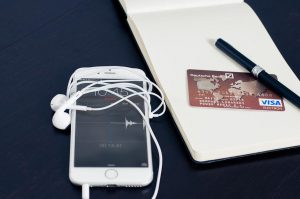 Some days take me to my absolute limit.
I am a mother of two children with autism. Sleep is a luxury, not a necessity; worry for the future comes with every waking moment.
Many times I want to scream at the world, but I have found it doesn't help. But there is one thing I do that DOES help, every single time.
When I have had another rough night with the kids and exhaustion is inhibiting my ability to even remember my name, let alone what day of the week it is, I know it is time to go to my "in times of crisis" list.
When my son has screamed so long and so hard that my head pounds and my heart bleeds, I know it is once again time to find my bank card immediately. The greater the hurt, the more I HAVE to find that card. It becomes a matter of survival.
When my daughter's anxiety becomes overwhelming, I do this. When the tears won't stop, I find this helps. When facing another day of meetings, more forms, more phone calls and home visits, this is my biggest way to cope.
This one thing has saved me from breakdowns, given me hope when I felt there was nothing left, and been the rock that keeps me going.
On the days I want to scream at the world… I instead find a way to give to someone else.
I have a secret list I keep. Social media helps me add to this list, as do the mundane trips to supermarkets and even the school run.
My eyes become my heart as I look for people or ways that I can make a difference, even when my own life is extremely challenging.
Let me show you how it works.
The other morning, I was walking my daughter (who suffers from autism, severe anxiety and an eating disorder) to school. She had struggled so much with breakfast, yet again, that I had to feed her myself — like a baby, despite the fact she is almost eight. She had woken six times the night before with night terrors, anxiety and stress. Her weight had dropped off the growth chart once again, and I was scared. She had a packed lunch with her, and I was certain it would come home exactly as I packed it that morning. I wanted to scream.
But as I took her into the school, I overhead a staff member talking about some new equipment they had delivered and how she would love to have her class use it —  but nobody had time to set it up. Compared to the stress of my morning, that seemed so insignificant. However, instead of screaming, I asked if they would like some help.
Instead of screaming at the world, I gave a little of my time to someone and it made me feel so much better.
Another time I was feeling so sorry for myself, I had just had the results of my son's MRI. I had been told that one of his eyes had microphthalmia and the other had an optic glioma. With a diagnosis of severe non-verbal autism already, these added medical issues were making me depressed. I felt like life was so unfair. Nobody seemed to understand or care. I wanted to scream at the world, again. So I dug out me "in times of crisis" list.
This is simply a list of names, ranging from my next-door neighbour to people on my social media lists to local charities that are struggling. I pick a name and set about deciding on a way to bless them. That day, I sent a bunch of flowers to someone anonymously. As soon as I got off the phone to the florist my spirits lifted, thinking about how someone would be smiling that day. The miraculous thing was that it took my pain away, too.
I am no saint. I freely admit. I am using my list to help my own mental health and not just to be some super-amazing individual. I have reasons to scream and I actually do think life sucks at times. But what I have realised is that other people suffer too — just in different ways than I do.
Do you feel like screaming at the world today? Does life seem incredibly unfair to you or your children? Try doing something for someone else: knit a hat for someone's baby, take a neighbour to an appointment, send someone flowers or even just write a message of encouragement to someone on social media. It isn't easy, but then life isn't easy for anyone.
Perhaps the person you gave to may have been feeling like screaming at the world that day, too.

Miriam lives in Scotland with her husband and twins. Trained as a teacher, she started blogging in 2013 when her son was diagnosed with the genetic condition nf1. Both twins have autism and Miriam describes her life as "sometimes challenging, mostly hectic, but always full of love."

Latest posts by Miriam Gwynne (see all)
https://autismawareness.com/wp-content/uploads/Angry-Woman.jpg
720
720
Miriam Gwynne
https://autismawareness.com/wp-content/uploads/autism-awareness-logo-340-156-300x71.png
Miriam Gwynne
2016-10-04 01:32:09
2016-10-04 15:14:14
On the Days I Want to Scream at the World, I Do This Instead