The Spectrum Toy Store: An Idea Whose Time Has Come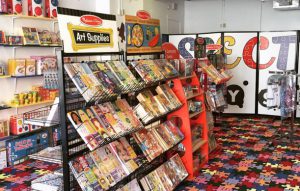 Last month, we let our community know about the Spectrum Toy Store, a toy store located in Chicago that catered specifically to children on the autism spectrum. While we thought it was a fantastic idea for a toy store, we never expected our article to go viral, but it did. More than 1.2 million people viewed it, leading many websites and television news stations to feature the news about the Spectrum Toy Store on their social media sites and channels.
Jamilah Rahim, the owner of the store, was a bit overwhelmed by it all, but in a good way. We reached out to her as follow-up to the first piece, to give you more background and let you know what she plans for the popular store in the near future.
AutismAwareness.com: Do you have any family members on the spectrum?
Jamilah Rahim: I do not have family members on the spectrum however, like many people I do have relatives with disabilities. My first encounter with individuals on the spectrum came during graduate school. When completing two practicums, one in a resource room and one in a life skills classroom, I then decided I wanted to focus my career on individuals with more severe disabilities.
AA: What is your greatest joy from serving the special needs community?
JR: The greatest joy has to be seeing the impact you have on not only the children but their families.  Working directly with each child and hearing the parents tell you how much change they have seen in their child developmentally and/or behaviorally.  Having parents call from all over the country thanking you for creating a place for them and their children has to be the most rewarding part.
AA: When were you first exposed to the unique needs of specials needs children?
JR: My first exposure to the special needs community was right after undergraduate school. Initially, I didn't know what I had a true passion for. My dad then recommended getting into special education. I decided "why not give it a shot." I then enrolled into a special education program and began working in a residential home for children with disabilities. This is where I fell in love with the field. It not only gave me purpose, but at the end of each day I felt as though I was building relationships with my clients. I used to and still do refer to the children I work with as "my kiddos" and not my clients.
AA: What is the most unique toy request you ever had?
JR: Interestingly enough, I recently had a request for a toy for a child with severe physical aggression. The request came from an educator who had a student that liked to break fingers. She wanted a sensory item or toy that would give the same effect in terms of sensory. This was the first time I had ever had a request like that and had to collaborate with other professionals on what would be the best option. More times than not, parents, educators and professionals are your best source for what works best with children.
AA: Do you work with any organizations to provide toys to families?
JR: I do not work with organizations that provide toys to families. However, I do work with organizations where toys are the primary method of teaching. This gives me better insight on toy selections.
AA: Any special events coming up for the holidays?
JR: Yes, we will have Santa in a few days before the Christmas Holiday. We begin our winter break camp December 26 – January 6, which includes yoga and Pilates. In late December, we are also offering consultations for visual supports for communication books, daily living skills and social skills.
AA: How was business before this – have you noticed an uptick in calls and visitors and online purchases after our article was published?
JR: Business was steady since our opening, however our sales have more than quadrupled since the recent media coverage. We are very thankful for these opportunities as it allows us to not only continue our services to our clients but add new services that they can benefit from as well.
AA: We saw in a recent article that people were driving pretty far to come to you. Are they looking for specific toys? Do they bring their children with them?
JR: Most parents do bring their children which makes the shopping experience a really cool one.  Our store has more of a community feel. Parents can bring their children and no one judges or stares when they see untypical behavior. Many parents come in looking for sensory items specific to their child's needs.
AA: What has the feedback been like?
JR: The feedback has been amazing! We constantly receive phone calls and emails from people all over the world thanking us for opening a place where their child can shop and be accepted.
AA: Is any one toy in particular proving to be the most popular?
JR: Sensory items are usually the most popular and requested items. Our most popular toys would have to be puzzles.
AA: Have people approached you about opening more stores, or perhaps franchising to other cities?
JR: We have had dozens of phone calls and emails about opening stores in other cities and franchising. Our plan is to open another location on the east coast in late 2017 or early 2018.
AA: Is there really a "Try Before You Buy" policy?
JR: Yes, there is a "Try Before You Buy" policy. And for those items that aren't open that parents would like to try, we open those items and then use them as demos.

Avid reader, lapsed wanderer, reformed cynic, and sometime cyclist. Believes laughter really is the best medicine.

Latest posts by Rachel L. MacAulay (see all)
https://autismawareness.com/wp-content/uploads/image-post-spectrum-interview1.jpg
960
960
Rachel L. MacAulay
https://autismawareness.com/wp-content/uploads/autism-awareness-logo-340-156-300x71.png
Rachel L. MacAulay
2016-12-18 23:19:14
2016-12-18 23:19:14
The Spectrum Toy Store: An Idea Whose Time Has Come