A Toy Store for Children on the Autism Spectrum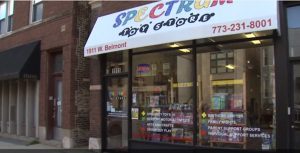 Illinois' first toy store aimed at children with developmental challenges recently opened for business in Chicago. The store functions as part of the non-profit CARE Foundation and specializes in toys for children on the autism spectrum, marketing itself as a one-stop shop for parents and educators.
Spectrum Toy Store is owned by Jamilah Rahim, a home behavior therapist with a master's degree in Special Education, who says she saw a need for this type of store. "I did in-home behavior therapy with families and I was able to see firsthand what kind of toys the kids played with, what they were into."
She found out that most parents bought their toys online because there was nowhere local to shop for the specialized items they needed, and the idea for Spectrum Toy Store was born. The store helps take some of the guesswork out of buying the perfect toy because everything has the option to "try before you buy." Jamilah explains, "They are able to come in here, play with the items, touch them, feel them see them and then determine what works for their child."
In addition to selling sensory toys, specialty products and adaptive equipment, the store also offers therapeutic programming and hosts group activities. The focus is on children ages 3-13.
"We do different activity groups. We focus on different core areas, like communication skills, life skills, cognitive skills, gross fine-motor skills and sensory play. All of the classes are play-based since we are a toy store. We try to gear everything around play, so we do different activities with different toys to help support the skill deficit that children may have."
To date, community feedback has been positive. Jamilah listens when parents tell her what works well for their children and strives to stock the items that fit the community. She also plans to launch a monthly toy subscription service this holiday season. Proceeds from the service will fund scholarships for local children to attend summer day programs planned for next year.
For more information or to make a purchase online, visit Spectrum Toy Store's website.

Avid reader, lapsed wanderer, reformed cynic, and sometime cyclist. Believes laughter really is the best medicine.

Latest posts by Rachel L. MacAulay (see all)
https://autismawareness.com/wp-content/uploads/Spectrum-Toy-Store-Featured.jpg
391
428
Rachel L. MacAulay
https://autismawareness.com/wp-content/uploads/autism-awareness-logo-340-156-300x71.png
Rachel L. MacAulay
2016-11-14 15:44:24
2016-11-14 15:44:24
A Toy Store for Children on the Autism Spectrum