Teen Demonstrates the True Meaning of Sportsmanship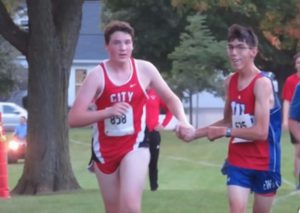 Although many people these days complain about the selfishness of our youth, we read stories every day about children and teens going out of their way to help others. Such is this story out of Cedar Rapids, Iowa, where a high school cross country runner helped a runner from the other team cross the finish line.
However, this isn't one of those news pieces where the entire team conspires to "let" a child with Down syndrome make a touchdown in football or a winning two-pointer in basketball. Instead, sophomore Evan Hansen was competing in a cross country meet for City High when he noticed that Adam Todd, a runner from opponent Cedar Rapids Washington, had veered off the course. Adam, who has autism as well as epilepsy, had gotten distracted by an ambulance.
To keep Adam focused and on track, Evan held his hand for the remaining 1 1/2 miles of the race, making sure Adam finished first. "It was pretty amazing actually. I kind of pushed him in front of me when he finished," explained Evan. "I wanted him to be in front of me because he finished it by himself."
While the teenagers took it all in stride, their coaches were both choked up by the action. "I can't tell you the immense pride that I felt," said Jayme Skay, Evan's coach. "Because you coach 20, 30 years, and it's moments like that, that make it all worth it."
Adam's father told ABC News 7 that Adam was happy to finish the race, and to know he has a friend on the other team.

Avid reader, lapsed wanderer, reformed cynic, and sometime cyclist. Believes laughter really is the best medicine.

Latest posts by Rachel L. MacAulay (see all)
https://autismawareness.com/wp-content/uploads/Teen-Athlete3.jpg
332
353
Rachel L. MacAulay
https://autismawareness.com/wp-content/uploads/autism-awareness-logo-340-156-300x71.png
Rachel L. MacAulay
2016-10-14 15:51:33
2016-10-14 19:39:47
Teen Demonstrates the True Meaning of Sportsmanship