Meet Princess Jack: A Boy Who Connects to the World Through Fairy Tales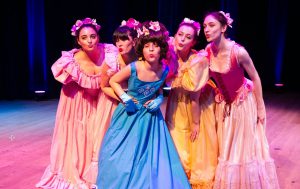 Jack is not your typical 11-year-old boy. His closet is jam-packed with dresses and tulle, his room is stacked with hats and wigs, and every surface is covered with makeup tins, face paint and books about goblins, witches, trolls and enchanted forests. Jack has high-functioning autism, and fairy tales and make-believe are a major part of the way he connects to the world. He is the subject of my short documentary, "Princess Jack," exploring his special interest as he sews his first ballgown tailored for a debut at the royal ball.
Those familiar with autism will understand the concept of a "special interest" — a passionate and consuming fixation that garners a remarkable level of dedication, focus and energy. While many children with autism have difficulty with school, they often have a gifted knowledge and high degree of aptitude for their special interest. In Jack's case, his detailed memory of stories and fairy tales is astounding, helping maintain his interest in learning despite struggles with reading and writing.
A friend introduced me to Jack just over a year ago, while I was looking for a documentary subject at her sewing studio. I was immediately captivated by Jack's radiant enthusiasm and devotion to his sewing project. Over the course of a year, I filmed Jack finishing his ballgown, his life at home, and a dazzling fantasy sequence that allowed him to explore his interior fairy tale world. My intention was to tell Jack's story by letting him introduce his particular tastes, inviting us to become immersed his world, surrounded by his loving family, dance instructors and sewing teacher.
From spending time with Jack's family, I gained some insight into the journey of parents caring for, in his words, "a boy who sometimes likes girl things."  He is fortunate to have continual access to activities including sports, games and outdoor recreation, and is fully supported in his passion for dress up, drama and costume design. Princess Jack is the story of a unique and intelligent child telling us exactly who he is, and what makes him happiest.

Lesley Johnson is a Yellowknife- and Toronto-based filmmaker, putting the finishing touches on an MFA in Film Production at York University. Her work focuses on identity and personal transformation with relation to arts, culture and environment. For more information about her short film, Princess Jack, please visit the
Facebook
page.

Latest posts by Lesley Johnson (see all)
https://autismawareness.com/wp-content/uploads/JackandPrincesses2.jpg
401
504
Lesley Johnson
https://autismawareness.com/wp-content/uploads/autism-awareness-logo-340-156-300x71.png
Lesley Johnson
2016-10-17 21:25:51
2016-10-17 21:27:54
Meet Princess Jack: A Boy Who Connects to the World Through Fairy Tales