Inmates Train Service Dogs to Help Individuals With Autism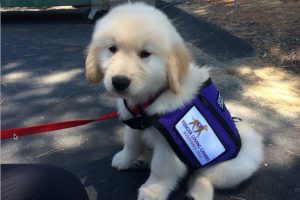 Anyone who has had a pet knows the therapeutic value they can have. Studies have shown that companion animals can help alleviate depression, help with physical tasks, and ease social pain. While there are many wonderful organizations throughout the world training animals to serve as companions for a variety of reasons, we especially liked this story, as the training benefits both prisoners and individuals with autism.
Tender Loving Canines Assistance Dogs (TLCAD) has been helping to train and place assistance dogs in San Diego County, California, since 1998. It focuses on two underserved communities—individuals with autism (through its Leash-on-Life program) and Wounded Warriors military veterans (though its At Ease program). TLCAD trains puppies from local breeders, as well as dogs rescued from euthanasia at local animal shelters. Facility service dogs have been placed with individuals, as well as schools, therapy centers, outpatient clinics and military hospitals.
TLCAD first launched its POOCH (Prisoners Overcoming Obstacles & Creating Hope) program in partnership with the Richard J. Donovan Correctional Facility, to help provide "an opportunity for education, rehabilitation and community improvement within the prison system." POOCH also help the organization meet the increased demands for service dogs in the two communities it services. Because the inmates spend so much time with the dogs, the typical training period of two years (when starting with an eight-week-old puppy) to one-and-a-half years or even one year.
The POOCH program helps TLCAD train more puppies, but it also has extremely beneficial results for the prisoners who do the training. Because they're learning how to use positive reinforcement to train the dogs, and the way that the dogs respond to that positive reinforcement, the inmates are also learning how to positively and effectively interact with their own environment. In a way, the dogs are serving as models of proper responsive behavior.
In July, the POOCH program expanded to a second correctional facility, Mule Creek State Prison in Ione, California. A group of inmates there are living with three puppies while training them. "You can tell that the mood on the yard instantly changes when the dogs are there," Stephanie Santos, training director for TLCAD told ABC News. One man hadn't pet a dog in more than 40 years.
"When I saw the dogs on the yard, it immediately brought a joy to me…it made me smile. In here, smiles are kind of few and far between; they're hard to come by," explained one inmate. Another one said, "I think I have a hardened soul. I've been doing criminal activity for so long… but he's made me feel humble… and I feel appreciated."
"These dogs are helping heal the inmates, and in turn, these inmates are helping train dogs who will then make a difference in the lives of the people who need them," Santos explained.
To find out more about these wonderful organization, please visit the TLCAD website.

Avid reader, lapsed wanderer, reformed cynic, and sometime cyclist. Believes laughter really is the best medicine.

Latest posts by Rachel L. MacAulay (see all)
https://autismawareness.com/wp-content/uploads/POOCH-program2.jpg
388
407
Rachel L. MacAulay
https://autismawareness.com/wp-content/uploads/autism-awareness-logo-340-156-300x71.png
Rachel L. MacAulay
2016-08-12 16:28:00
2016-08-12 16:35:44
Inmates Train Service Dogs to Help Individuals With Autism