2017 NFL Pro Bowl to Be Autism-Friendly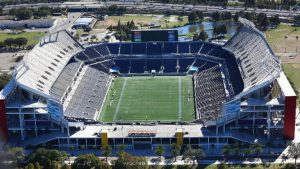 This Sunday, the NFL's Pro Bowl will take place in Orlando, Florida. As the location of Disney World, Universal Studios, SeaWorld, and more, Orlando is one of the most family-friendly destinations in the U.S. And it's about to get a little friendlier.
For the first time, this year's Pro Bowl is striving to be as autism-friendly as possible. This includes sensory tools, a designated quiet room, and specially trained staff to help families. The staff will include both security personnel and Camping World employees, who will learn more about autism and the ways that they may be able to assist autistic families during the game.
Special Sensory Sacks will be available to all families, thanks to efforts by the group A-OK Autism in Tulsa, Oklahoma, which worked closely with the NFL. These sacks will contain a stress ball, noise-cancelling headphones, and a stadium wristband where the wearer's seating information can be written down in case they get lost. The sacks will also contain a lanyard and badge that a person with autism or other developmental disability can wear to let others know, for example, if they are unable to speak. Of course, the badges can be worn or not worn at the individual's or family's discretion.
"Our goal is to make the game as family-friendly as possible," Anna Isaacson, the NFL's senior vice president of social responsibility, told the Orlando Sentinel. "We want to see if this is something the fans take advantage of and, if so, whether we can extend it to the Super Bowl and perhaps share it with the rest of the league."
The NFL got the idea of an autism-friendly game from the Seattle Seahawks, which has six players on the NFC Pro Bowl Roster. The Seahawks first teamed with A-OK Autism in October 2015. Seahawks General Manager John Schneider and his wife have a child with autism, and they helped institute the same autism-friendly amenities—including the trademarked Sensory Sacks—at Seahawks Stadium then, with much success.
The program will be announced to Pro Bowl attendees on Game Day, and they'll get instructions on where to go to pick up the Sensory Sacks.
The idea behind this is that there isn't always a visual way to recognize if someone has autism," Isaacson said. "And it's hard for people who aren't experienced with it to recognize that certain behaviors are part of the autism spectrum. We just want to make sure we're creating a safe and comfortable and inclusive environment."
In addition to the Seahawks, the Philadelphia Eagles and the Indianapolis Colts have also been working to make their games and facilities autism-friendly.

Avid reader, lapsed wanderer, reformed cynic, and sometime cyclist. Believes laughter really is the best medicine.

Latest posts by Rachel L. MacAulay (see all)
https://autismawareness.com/wp-content/uploads/image-post-Pro-Bowl2.jpg
493
512
Rachel L. MacAulay
https://autismawareness.com/wp-content/uploads/autism-awareness-logo-340-156-300x71.png
Rachel L. MacAulay
2017-01-24 23:15:41
2017-05-07 05:58:53
2017 NFL Pro Bowl to Be Autism-Friendly