To Find Hope, Sometimes You Have to Start at the Bottom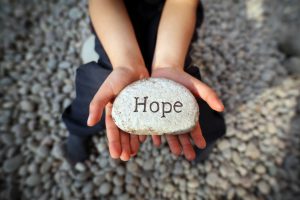 March Madness is here. Even if you don't care for college basketball, it's all over the news. Fun fact: Did you know that this year the odds of the 16th-seeded team winning is 10 million to one? It seems impossible, but the hope still exists. Why else would they even try?
I don't know about you, but I love a good underdog story. The movie, "Hoosiers," is one of my favorites. If you are unfamiliar with the film, it's based on a true story of a rinky-dink Indiana high school basketball team and their washed-up coach. The team and the coach seem like unlikely winners, but the story follows how they start from the bottom and work their way up until they make it to the championship game. I won't tell you if they win or not. I recommend watching it to see for yourself. Anyway, the point of the movie isn't about winning or losing; it's about the struggle and how each of the characters grows in spite of the countless obstacles in their way. For so many reasons, this type of story appeals to me.
As a kid, I struggled to learn and every year in school was a painful uphill battle. My teachers told me countless times that I would never go to college or achieve much in life. Even now, as a successful adult with not one, but two college diplomas, I still carry that feeling of "other" with me.
The fight continued for me when I became a parent of a child with Autism. I know this puts me in good company, because mothers, fathers and grandparents all over the world are sparring with teachers, aides, insurance companies, therapy providers, and mean or even well-meaning people who judge us and our kids. It seems like the war will never end. Once one problem is dealt with, another half dozen pop up in their place.
And so, every year as I celebrate another birthday with my son, I wonder what the future will hold for him. Will he ever be truly accepted for who he is? Will this struggle prove to be too much for him? These and a million other questions plague me daily. Maybe they weigh on you, too.
What worries keep you up at night? How do you cope with the uncertainty? The only thing that seems to help me get through it all is hope. The kind you only find at the bottom rung of the ladder.
My son is a brilliant, thoughtful and artistic child with a lot to offer. He and I talk a lot about his life and how to navigate a world that doesn't make sense to him. He wants us to write a book together one day when he's older, so that he can share his experience and how he views the world through the lens of autism. I grab onto these moments and dare to believe that the world will boldly embrace him and his differences.
Because sometimes the underdog does come out on top.

K.M. Hodge lives in Texas with her husband and two energetic boys, and enjoys writing tales of suspense and intrigue that keep her readers up all night. Her stories, which focus on women's issues, friendship, addiction, regrets and second chances, will stay with you long after you finish them. When she isn't writing or being an agent of social change, she reads independent graphic novels, watches old "X-Files" episodes, streams Detroit Tigers games, and binges on Netflix with her husband.

Latest posts by K.M. Hodge (see all)
https://autismawareness.com/wp-content/uploads/image-post-find-hope2.jpg
969
1297
K.M. Hodge
https://autismawareness.com/wp-content/uploads/autism-awareness-logo-340-156-300x71.png
K.M. Hodge
2017-03-16 15:47:58
2017-03-16 16:56:28
To Find Hope, Sometimes You Have to Start at the Bottom