Autism Eats — (How to Start) Dining Out with Autism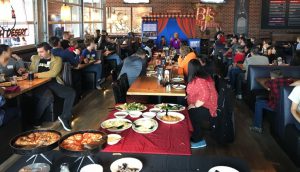 Being a parent of a child with autism can be hard. I do not think this is a statement that breaks any new ground. We miss many of the things that on the surface seem so simple and enjoyable, but in practice are not.
There may be no more stressful situation for an autism family than a trip to a restaurant. It is anything but simple and enjoyable. There can be anxiety over being in a new place, sensory overload due to the sights and sounds, favorite foods are not always on the menu and the server may take too long bringing the food and check. Children with autism might not want to sit still, preferring instead to bolt for the door, flop on the ground or play their iPhones too loudly.
The tension builds: Other diners may look in our direction and the restaurant does not know how to help.
Many autism families decide the stress of dining out outweighs the enjoyment and so choose not to go. We were clearly one of these families that succumbed to the stress and limited our restaurant outings.
My wife Delphine and I started Autism Eats because we missed going out and wanted to enjoy time with our family and friends at a restaurant. We knew that other autism families felt the same way.
So three years ago, we created the Autism Eats restaurant model that ensures success and enjoyment for all guests.
Restaurants are carefully selected and must have the right physical layout for us to create our non-judgmental zone. Everyone in our room "gets it," so there is no need to feel like all eyes are on us or to apologize for anything. All behaviors are welcome.
Families are greeted at the door to confirm that they made the right decision to join us today. They are escorted to a family table or a community table as a natural way to meet new friends. Reservations and payments are made in advance, and a variety of kid and adult food is served buffet-style. There is no waiting. Kids receive toys, and lights and background music are both turned down.
All potential obstacles to an enjoyable experience are accounted for and corrected.
To date, we have had 25 brunch, lunch and dinner events in independent and chain restaurants in multiple communities across Massachusetts, California, Pennsylvania, Virginia, Illinois, Florida and Hawaii. In the next two months, new communities in Georgia, New York, Rhode Island, Illinois, Missouri and New Brunswick will hold their first Autism Eats events.
More than 2,000 individuals with autism, their parents, siblings, extended family, friends, teachers and caregivers, have come together for Autism Eats restaurant events. We have watched people enjoy a typical restaurant outing with their families, make new friends, arrange playdates, schedule rounds of golf, network, and discuss the news, sports and politics. Wow!
If you are looking to bring your autism community together, meet new people and have fun, then starting an Autism Eats club is an easy way to do it.
We will provide you with the step-by-step instructions, from selecting the restaurant to menu planning, community outreach and running the events. We will also promote your events on the Autism Eats website, take reservations, collect payment and pay the restaurant.
If you are interested in learning more, please contact Autism Eats directly.
Our upcoming events include:
3/18: Dinner at Fireside Restaurant, Chicago, IL (sold out)
3/20: Dinner at Red Rooster Harlem, New York, NY
3/21: Dinner at Chelo's, Providence, RI
4/12: Brunch at BJ's Restaurant, Victorville, CA
4/ 24:Dinner at Maggiano's Little Italy, Boston, MA
4/25: Dinner at Williamson Bros. Bar-B-Q, Marietta, GA

Lenard Zohn is a husband and proud father of two wonderful children, including a son with autism. His passion is bringing people together to build community and raising awareness of autism and the families that it touches. He is also a sales and business development professional.

Latest posts by Lenard Zohn (see all)
https://autismawareness.com/wp-content/uploads/image-post-autism-eats2.jpg
433
533
Lenard Zohn
https://autismawareness.com/wp-content/uploads/autism-awareness-logo-340-156-300x71.png
Lenard Zohn
2017-03-07 20:25:23
2017-03-08 00:48:41
Autism Eats — (How to Start) Dining Out with Autism