Things To Do in the Summer With Children With Autism
Summer can be long and stressful for any family, but for those who have autistic children the changes in routine, lack of structure, isolation from friends, and sensory issues can make holidays seem even harder. As a parent of two children with autism–one who has significant learning difficulties and is non-verbal–I often struggle with ways to keep the children occupied all day, every day, for nearly two months. My stamina, enthusiasm, and excitement are already beginning to waiver after too many late nights, early mornings, and far too many meltdowns.
However, I sat down tonight and decided it is not too late for things to change. Summer CAN be a great time for my family, and for yours too.
Not all of these will work for your children and many may need tweaking to suit your own family dynamics, but why not try something different? Try to have fun with your children even if they have communication or social difficulties.
Get Outside!
Fresh air is so good for everyone. It gives us a better appetite (something my ASD daughter really struggles with!), makes you feel happier and more relaxed, and doesn't cost a thing.
My son needs 1-1 support at all times, but even he enjoys a bit of crazy golf or swimming. Lots of children are able to cycle, or if not, perhaps they can use a scooter, a trike, or even a skateboard. However they feel comfortable, get out and about with them together on a bird hunt, a picnic, a walk in the woods, a treasure hunt, or just a trip to the local park.
Neither of my children can hula hoop but we enjoy spinning the hoop, wheeling it to each other, and jumping in and out of it. There are often football teams looking for new members and a quick Google search may even yield a team for children with special needs.
Neither of my children enjoy sports or climbing, but my son still loves the swing and the slide, and we try and walk to these whenever possible, even if we need reins. Drawing with pavement chalk, playing hopscotch, kicking a ball, and picking fruit are all popular with my two (although I have to say my son eats much more fruit than he takes home!)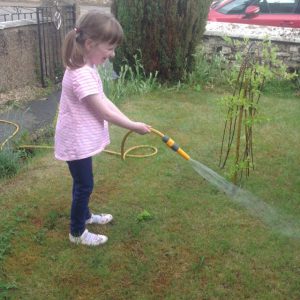 Garden Play!
If going outside your own property is difficult with your child, what about playing in the garden? A cheap paddling pool (how about adding a little food colouring or blowing bubbles into the water to add something different?) or a sand pit can keep some children entertained for hours. Garden picnics can turn the most mundane lunch into something much more exciting for a fussy eater.
Trampolines, slides, summer houses, and large sit-in vehicles may be expensive, but could potentially amuse a sensory-seeking child for many a day all summer. Here is my young daughter having the time of her life watering the grass with a hose recently after a few dry days. Simple and inexpensive!
Go Somewhere!
A quick visit to your local tourist information centre or on sites like Days Out with Kids might surprise you with the local attractions that are suitable for your child. Some may even offer discounts for carers or children with autism or other disabilities, so it's always worth asking. Some museums are even free! I recently took my kids to an airplane museum where my son's favourite thing was the hand dryers in the bathrooms! The fact was we still went and on whatever level, he had a nice time.
Swimming, ten-pin bowling, the lifts at the local shopping centre, trips on trains or buses, pottery painting, the cinema (many have autism viewings), and a local sensory room are favourites for my two. Even just a few hours out of the house can really break a day up. To prepare my children I use Google Images and Google Maps, as this always helps ease anxiety about the unknown.
Sensory Play at Home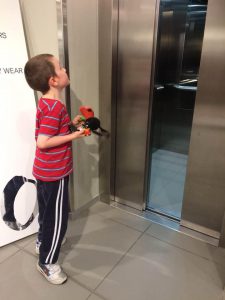 Some days, due to bad weather, tired children, or the everyday struggle to get them away from screens, going out just doesn't happen. My son misses his school sensory room so much when he's at home all summer, so I try and find sensory activities to help him regulate.
Playdoh (under strict supervision, as my son eats it!), water play, burying toys in rice or uncooked pasta, painting (even water painting can be fun!), junk modelling (my unique way of recycling when it is wet!) baking, fake snow, shaving foam, bubble pictures, puppets, and making homemade musical instruments can all help my children overcome sensory avoidance or give them the sensory stimuli they seek.
My daughter loves jelly baff (bath good) but my son hates it, so using a basin instead of the bath helps a lot. We have made masks before, which for my daughter with selective mutism was a great way to avoid talking if someone suddenly came to visit. I am sure most families have built a den from blankets too!
Games With Rules
My daughter loves rules and fairness, so boxed games of any sort are a firm favourite. There are lots of adaptions of the traditional snakes and ladders if your child is more motivated by Frozen or Superman, for example. Other favourites are Guess Who, pairs, Hungry Hippo, hide and seek, and many of the Orchard games for children. For older children, Scrabble or solitary games like sudoku or word searches can help them unwind when they need some alone time. The key is to get involved with them while finding the balance between having time together and time apart. Some children with autism will struggle to take turns or wait, but simple quick games like Snap can be ideal to work on these.
Construction Toys
Legos are often a firm favourite of children with autism. While some children will prefer to be left alone to build and play, it is always worth encouraging teamwork and co-operation. Legos may be an ideal activity to have a playdate around or for siblings to work together. My two are still at the wooden blocks, Duplo and Mega Blocks stage but their friends enjoy Meccano, K'nex, stickle bricks, magnets, gears, and even marble runs.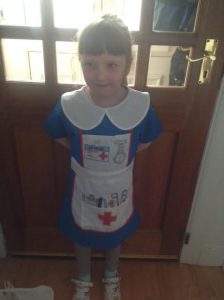 Imagination
One of the biggest myths about autism is that children with autism lack imagination. The type of imagination some children with autism struggle with is "social imagination," which involves joining in games already established by other children that do not have set rules. Summer is an ideal time to allow your ASD child to take the lead with their own imagination. They could dress up, play with dolls (boys and girls!) reenact in a dollhouse, play cars, or trains or castles, be a superhero or a pirate or what about a fireman?
Many children find reacting programmes or stories the easiest way to play, so why not watch the episode with them and join in? It doesn't even need to be expensive! How about using an old roll of wallpaper to draw your own train track or road layout? Or put a blue towel on the floor to be the seaside?
I know some of you will have read this with skepticism. I know the battle to get your child off an iPad or computer or even to get dressed. I know all too well the anxiety that can come with try something new for many with autism. Not everything will work and that is OK.
Find a local support group or ask around to see if any places do times that are quiet or even ASD specific. Plan ahead for changing facilities, access, price, and parking, and always pack a camera!
Summer does not need to be a stressful time. Even trying just one new thing a week can create memories and smiles that make everything worthwhile.

Miriam lives in Scotland with her husband and twins. Trained as a teacher, she started blogging in 2013 when her son was diagnosed with the genetic condition nf1. Both twins have autism and Miriam describes her life as "sometimes challenging, mostly hectic, but always full of love."

Latest posts by Miriam Gwynne (see all)
https://autismawareness.com/wp-content/uploads/Miriam1.jpg
608
941
Miriam Gwynne
https://autismawareness.com/wp-content/uploads/autism-awareness-logo-340-156-300x71.png
Miriam Gwynne
2016-07-19 00:25:36
2016-07-19 00:25:36
Things To Do in the Summer With Children With Autism