The Smith Brothers Use Boxing to Help Spread Autism Awareness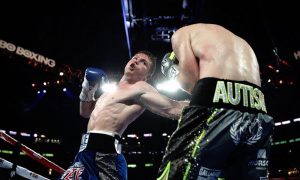 Although Liam Smith suffered his first-ever defeat to Saul 'Canelo' Álvarez in the recent WBO light middleweight title bout AT&T Stadium in Dallas, he's far from a loser in our eyes. Liam, along with older brothers Paul and Stephen, and younger brother Callum, is part of a dynamic professional boxing family hailing from Liverpool, England. In 2013, the family made history when three of the brothers claimed the British light-middleweight (Liam), super-featherweight (Stephen), and super-middleweight (Paul) belts at the same time. Younger brother Callum is also a boxer to be reckoned with, with many experts saying he's the best of the foursome.
The brothers all fight with the word "Autism" featured prominently on the back of their shorts. They do it to honor their 15-year-old sister, Holly, who was diagnosed with autism at an early age, and to raise awareness of the condition. "People don't really understand autism," says Paul. "Holly is a lovely girl but she can't speak or communicate. So in our own way we are fighting for her."
Callum told Boxing News that, while the four brothers inevitably draw inspiration from each other, Holly is a big driving force behind them. "To see her battling through life every day, but to also see her happy, is inspiring," he says. "We wear 'Autism' on our shorts to raise awareness and show support for other families dealing with autism, because for my mum and dad it is like a 24/7 job looking after her. When she was first diagnosed we didn't really know what it was. So when someone asks, I explain it. We're doing our bit."
And their fans are grateful. Liam told HBO, as part of the hype leading up to the Canelo match, "The four of us try and put it out there about autism and raise awareness… Every single day on social media we get messages…my kids got autism and I think it's unbelievable what you're doing for autism."
We absolutely agree.

Avid reader, lapsed wanderer, reformed cynic, and sometime cyclist. Believes laughter really is the best medicine.

Latest posts by Rachel L. MacAulay (see all)
https://autismawareness.com/wp-content/uploads/Liam-Smith5.jpg
510
458
Rachel L. MacAulay
https://autismawareness.com/wp-content/uploads/autism-awareness-logo-340-156-300x71.png
Rachel L. MacAulay
2016-09-27 22:10:58
2017-05-07 04:55:18
The Smith Brothers Use Boxing to Help Spread Autism Awareness