The Day My Daughter Surprised Us All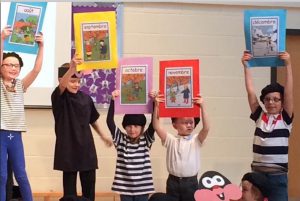 My daughter had been in school for almost two years, but her anxiety was still as high as it was on Day One. I had chosen to defer her starting school so, although she was one of the smallest in her class, she was actually one of the oldest. The staff described her as a very able child, yet having great difficulty communicating—especially verbally. She was overly shy, selectively mute, and very anxious but kind, conscientious, and a great listener.
I loved her teacher that year. She was one of those amazing people who somehow managed to get the best out of all the unique children within her class. For the full academic year, she has pushed my daughter slowly out of her comfort zone and, on a very odd occasion, even managed to hear a little whisper from her when reading or answering a question.
But despite this progress, we were both well aware that the forthcoming class assembly would be very difficult for my autistic daughter.
The year before, it had taken months to prepare her, and it was decided that if she was able to take part at all that year it would be a massive achievement. She was given the only non-speaking part. We bought her costume weeks before, so she could get used to the feel, the material, and the idea of having a hat on her head. She was to be the explorer going on a bear hunt and ended up with the starring role. She walked when she was supposed to and stood still on cue. She looked incredibly cute, too!
Fast-forward to a year later and a whole new assembly, this time French-based. The entire class had a part to play, and it was initially agreed that my daughter would simply hold up a card on cue during the "months of the year" song. I was delighted when she wanted to practice at home and we found the song on YouTube and practiced holding that card up for the world to see. To me, she was going to be the best October any child could ever be! I knew I would not hear her voice on the day, but we practiced every song like our lives depended on it.
Then one day she came home even more anxious than normal. "Mum, my best friend has some lines to say and she is really struggling. I want to help her but I can't." We talked about how to help her friend by encouraging her, practicing with her when they were together, and telling her friend that she believed in her.
The next day, her teacher suggested something that seemed totally crazy. She asked my daughter if she would like to help her friend by saying some of her lines for her.
A teacher chose a child with severe anxiety and selective mutism to help another child with a speaking part for the school assembly! 
My little six-year-old daughter had not raised her voice once the entire year. She had whispered a few words and that was all. When I heard the teacher's suggestion, I was wondering if she had any idea what she was suggesting.
She believed in my child. 
The day of the assembly arrived. My daughter held up that October card as proud as can be. The songs were lovely and the speaking parts so clear and well-rehearsed. The assembly was almost over when my daughter's best friend came to the front to say, "Thank you for coming to our French assembly today…"
I watched as my daughter walked slowly to the front.
The room fell silent.
With a voice as beautiful and tender as an angel's, she spoke clearly and as loud as all the others…
"We hope you enjoyed our songs and actions. From Primary 3, merci et au revoir."
There was hardly a dry eye in the room the day my daughter surprised us all.

Miriam lives in Scotland with her husband and twins. Trained as a teacher, she started blogging in 2013 when her son was diagnosed with the genetic condition nf1. Both twins have autism and Miriam describes her life as "sometimes challenging, mostly hectic, but always full of love."

Latest posts by Miriam Gwynne (see all)
https://autismawareness.com/wp-content/uploads/Miriam-Daughter1.jpg
461
445
Miriam Gwynne
https://autismawareness.com/wp-content/uploads/autism-awareness-logo-340-156-300x71.png
Miriam Gwynne
2016-09-25 19:24:33
2016-09-25 20:15:10
The Day My Daughter Surprised Us All