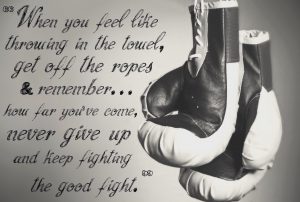 "I will never give up."
The phrase in itself is a huge commitment, compacted in a small sentence. It's something I vowed early as a parent, and the meaning evolves daily with infinite responsibility. I don't allow words such as "special" or "single" to define the parent that I am. I strive to be the parent defined by the happiness of my son's smile and the quality of the life that he leads.
"I will never give up" is at the heart of every advocate, fighting for the world to see behind the barriers that have been built. Often, a child is hidden behind or buried beneath it all—a child who needs your help. My child.
Daily, my son faces new and recurring challenges that I help him overcome. We replace each roadblock we meet with a detour all our own. Not every day provides a solution. Sometimes the challenge is one that turns into a battle, a fight, an all-out war.
IEP Meeting. (Pause, inhale, exhale)
Yes, it deserves its very own sentence, and a pause for every parent to use a few choice words describing how those three small letters really make you feel. I've never attended an IEP meeting that did not age me at least seven or more years each time.
The most important advice I can give to a parent attending an IEP meeting is to think like an educator, but act like a parent. What this means is remember the school district is there for the budget, remember to take as much emotional thought out of the equation as possible, but remember lastly to never, ever, ever back down.
Stand your ground as much as possible, because you're fighting for what's right for your child. They're fighting for what's right for their balance sheet. It's harder to say than to actually do, but focus on what you can change and don't waste time on the rest.
There will always be another round, a rematch, the IEP meeting you've dreaded; it never ends. When you feel like throwing in the towel, get off the ropes and remember how far you've come. Never give up. Keep fighting the good fight.

Kathleen Tarzwell legally, but her favorite person calls her Mom. Daily business professional, nightly accounting student. Autism advocate, fighting the good fight. Capturing life through the lens of an iPhone, and living it by the ticking of an eight-year-old's heartbeat. Blogger for the benefits of inexpensive therapy and in the hope that her words do for others as reading blogs has done for her.

Latest posts by Kathleen Tarzwell (see all)
https://autismawareness.com/wp-content/uploads/red-boxing-gloves.jpg
3092
3600
Kathleen Tarzwell
https://autismawareness.com/wp-content/uploads/autism-awareness-logo-340-156-300x71.png
Kathleen Tarzwell
2016-09-27 15:34:56
2016-09-30 17:45:04
Fighting the Good Fight