Teen Starts Recycling Business; Hopes to Become Self-Sufficient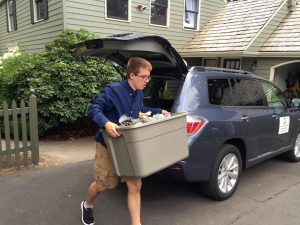 It's no secret that not everyone has the skills that are traditionally necessary to land, and keep, a typical job. Increasingly, we've heard stories about parents helping their children start their own businesses, for a variety of reasons. This is one of those stories.
James Harris, an 18 year-old with autism living in the Bridlemile area of Portland, Oregon, has always been interested in recycling. Since he has limited verbal skills and found school very challenging, his mom Kathi came up with the idea of helping James make a career out of recycling. They started a local business called James' Neighborhood Recycling Service, which recycles things that the township recycling program typically won't accept.
Each client gets a tall bucket and can put in "anything from batteries to plastic bags and electronics—basically anything that you can't normally recycle curbside." With the service, James is helping his neighbors, the environment, and himself. "I wanted him to be self-sufficient [and] I really didn't see an opportunity for him to do that with the work that's out there," said Kathi.
James goes out with his mom every Monday, Tuesday, and Thursday morning, and collects the contents of the buckets into big Rubbermaid bins in the back of his mom's SUV. After collecting the bins, James brings them all into the garage, where he sorts through everything. "I wanted to help the Earth, and help save our planet," explained James.
The service costs $12 per month and James' customer base has grown to 50 households since he first started six months ago. That brings in $600/month. His goal is to eventually have 1,000 customers, bringing in enough income for him to become self-sufficient.
Kathi is thrilled: "I'm really proud of him. He's so proud of himself and that's the main thing that I see. His pride… his self-esteem—it's amazing. And he works so hard on it."

Avid reader, lapsed wanderer, reformed cynic, and sometime cyclist. Believes laughter really is the best medicine.

Latest posts by Rachel L. MacAulay (see all)
https://autismawareness.com/wp-content/uploads/James-Recycling3.jpg
960
1280
Rachel L. MacAulay
https://autismawareness.com/wp-content/uploads/autism-awareness-logo-340-156-300x71.png
Rachel L. MacAulay
2016-08-08 19:56:43
2016-08-09 22:42:34
Teen Starts Recycling Business; Hopes to Become Self-Sufficient