Teacher Tells Student With Autism, 'These Tests Only Measure a Little Bit of You'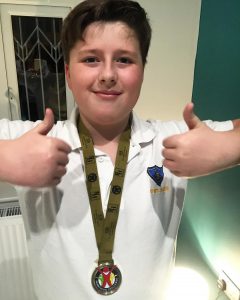 Gail Twist was so surprised, and gladdened, by a letter sent by her son's teacher, that she posted it on Twitter, along with the words: In tears. A letter to my 11 yr old autistic son from his school. "These tests only measure a little bit of you."
Her son, Ben, attends the Lansbury Bridge School and Sports College in St Helens, U.K., a school for children with "complex learning difficulties." This was his first year at the school, after he switched from the mainstream school that he'd attended for years.
Ben was the only student at Lansbury Bridge this year who took the SATs; unfortunately, he didn't pass them. Instead of simply sending the results to his parents though, assistant head teacher Ruth Clarkson wrote the letter below, and sent it directly to Ben. In it, she recognizes that the tests only measure a small part of Ben's knowledge and the person he is. She goes on to list his talents that she and the other teachers clearly see, including his kindness, his musical ability, his ability to make and keep friends, his artistic talents, and so much more.
Ben's mom, Gail, told The Guardian: "He is all of the things they wrote about him – he is an amazing person. I think their words will stay with him if we keep reminding him what they said about him. When I told him he said: 'Wow, do they really think all those things about me?' It's just a beautiful thing to do."
She went on to say, "He's such a sensitive and loving child and he's got an amazing sense of humour – it's amazing that the school are able to recognise that our children have other qualities than what they are tested on."
With the current controversy about our education systems requiring teachers to "teach to the test" instead of to the individual, it's heartwarming to hear about teachers who go above and beyond to recognize their students' achievements. Having educators in our lives who recognizes our abilities and talents, especially when tests can't measure them, is simply priceless.
In tears. A letter to my 11 yr old autistic son from his school. "These tests only measure a little bit of you" pic.twitter.com/e9OPECidxX

— Gail Twist (@gailtwist) July 9, 2016

Avid reader, lapsed wanderer, reformed cynic, and sometime cyclist. Believes laughter really is the best medicine.

Latest posts by Rachel L. MacAulay (see all)
https://autismawareness.com/wp-content/uploads/Ben3.jpg
647
495
Rachel L. MacAulay
https://autismawareness.com/wp-content/uploads/autism-awareness-logo-340-156-300x71.png
Rachel L. MacAulay
2016-07-11 19:41:38
2017-05-07 04:55:20
Teacher Tells Student With Autism, 'These Tests Only Measure a Little Bit of You'