Some U.S. Toys 'R' Us Stores to Offer 'Quiet Hours'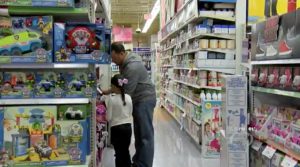 A few weeks ago, we shared the news that Toys "R" Us stores in the U.K. would be offering quiet holiday shopping hours this past November 6th, so families of children (and adults) with autism could take them shopping in a sensory-friendly environment. Many of you asked if stores in the U.S. would be doing the same thing. The answer is yes, but not necessarily yours.
While Toys "R" Us corporate announced that, yes, stores in the U.S. would be offering "quiet hours," they weren't specific on which stores would actually be participating. That's because they're trying to do it on a local level.
As Meghan Sowa, a spokesperson for Toys "R" Us explained, "We're working on a plan to test these types of opportunities on a local level – pairing our stores with local organizations to create an event for kids with special needs and their families." While this is too much work to get much accomplished this holiday season, she also said that the toy store giant "will also assess opportunities to scale it nationally."
The Toys "R" Us in Lafayette, Kentucky, was the first to offer the special event on the morning of Sunday, November 13, from 7-9 a.m. Lights were dimmed, music was low, and no announcements were made. Children could either accompany their parents to pick out toys or make wish lists, or stay in a designated "quiet zone," where store employees entertained them and colored with them while their parents shopped. Refreshments were provided and store mascot, Geoffrey the Giraffe, was available for photo opportunities. The event was a partnership between the Lafayette Toys "R" Us store and local group, Autism Society of Acadiana.
"The pressure to be able to stay and withstand everything going on around us is always a hassle," one mom explained, about her typical shopping trip. But at the special event, her child was able to run around the store and explore.
"For him to be able to be free and just run and pick what he likes…it was a better experience for me than it was for him," said another shopping mother about her son. "I think that every [parent] of an autistic child should have this experience… I wish that every Toys "R" Us in the country could do this."
The Lafayette store has said it hopes to repeat the shopping event in the future. As for other locations offering quiet shopping hours, we recommend that you check with your local store and/or autism organization.

Avid reader, lapsed wanderer, reformed cynic, and sometime cyclist. Believes laughter really is the best medicine.

Latest posts by Rachel L. MacAulay (see all)
https://autismawareness.com/wp-content/uploads/Toysrus2.jpg
358
383
Rachel L. MacAulay
https://autismawareness.com/wp-content/uploads/autism-awareness-logo-340-156-300x71.png
Rachel L. MacAulay
2016-11-22 01:27:13
2016-11-22 01:28:07
Some U.S. Toys 'R' Us Stores to Offer 'Quiet Hours'