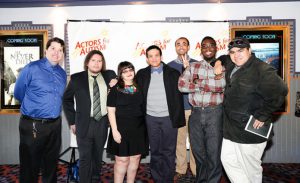 A first-of-its-kind job fair is set to take place today in Burbank, California.
The non-profit organization, Actors for Autism, is hosting the event, which is notable for two things. The first is that it's a "reverse" job fair, meaning that individuals are the ones behind the tables, selling themselves and their skills, and companies are the attendees shopping for potential employees. The second, and more important, piece of information is that all of the individuals hoping to be hired are on the autism spectrum.
According to its website, Actors for Autism is "dedicated to the advancement, education, and training of people on the autistic spectrum. We fulfill this mission by providing new and innovative programs in the Arts, Film & Television, Animation, Visual Effects and Video Game Industries. We believe that people on the autistic spectrum should live as integrated members of society. Inclusion should be a reality, not a dream."
While there's been more news recently about companies implementing hiring programs for people with autism, most of them have been in the tech industry, including Microsoft and HP. However, while this addresses the skills, and dreams, of some individuals with autism, it still leaves out a large part of the population. Not everybody wants to develop software.
Actors for Autism offers programs in video, television and film production, animation, visual effects and video game design. It also has a MicroEnterprise Development course, where individuals learn to take a business idea from inception to development and deployment, including a business plan and marketing strategy. For people looking to develop their social skills, and not necessarily their job skills, the non-profit also has a Social Skills program that meets on Saturdays, where students are grouped according to their age and skill levels.
Los Angeles and the Burbank area is perhaps the best place to try to find a job in the entertainment industry. Anybody who has stayed to watch the credits roll in any Marvel or action movie lately knows just how many people are employed behind the scenes in a large-scale movie production. Actors for Autism is working hard to make sure that some of those names include skilled employees with autism, by giving people not just the tools and skills necessary, but also the opportunity to showcase those tools and skills to hiring personnel at the studios and recruiters in the entertainment industry. That's a pretty big deal.

Avid reader, lapsed wanderer, reformed cynic, and sometime cyclist. Believes laughter really is the best medicine.

Latest posts by Rachel L. MacAulay (see all)
https://autismawareness.com/wp-content/uploads/job-fair.jpg
301
371
Rachel L. MacAulay
https://autismawareness.com/wp-content/uploads/autism-awareness-logo-340-156-300x71.png
Rachel L. MacAulay
2016-11-21 16:53:41
2016-11-21 16:53:41
A Job Fair Like No Other