Myrtle Beach Airport Opens Sensory-Friendly 'Quiet Room'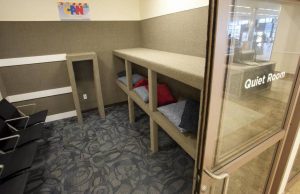 Back in the beginning of 2016, the town of Surfside Beach, South Carolina, made news when it became the first "autism-friendly" travel destination in the U.S. That accomplishment was due, in very large part, to the work of the Champion Autism Network (CAN) in the Surfside Beach area.
Founded in 2012 by Becky Large, CAN is working to spread autism awareness through the community, as well as helping to implement judgment-free zones and overall acceptance.
Today, the Myrtle Beach International Airport, just north of Surfside Beach, officially cut the ribbon on its new sensory-friendly "Quiet Room." The space is intended for people with autism and special needs who are in need of a place to decompress after their flight. The room is located just off of the baggage claim area, and features cushioned cubicles, pillows and chairs, for people to lie down or just sit and relax.
"This is a wonderful partnership and a victory for families of children with autism who are vacationing in our area," said CAN's Becky Large. "This room provides a safe and fun environment for children on the autism spectrum and a caregiver to relax and decompress after a flight while family members retrieve their baggage and rental car."
In other words, families traveling on to a holiday in Surfside Beach can get their vacation off to a good start in a judgment-free zone, with potentially fewer meltdowns.
And that's not all. Tyler Servant, the council vice chair of Horry County, which encompasses Myrtle and Surfside beaches, says that the goal is for the entire county to become autism-friendly: "Myrtle Beach area is a great destination for families and by offering these services it was our hope that Horry County would become a place where families that have children on the autism spectrum could come and visit and enjoy their vacation and their time with their families because that is what this area is all about."
We can't wait to see more beaches, towns, airports, and entire counties, doing the same.

Avid reader, lapsed wanderer, reformed cynic, and sometime cyclist. Believes laughter really is the best medicine.

Latest posts by Rachel L. MacAulay (see all)
https://autismawareness.com/wp-content/uploads/Myrtle-Beach.jpg
315
400
Rachel L. MacAulay
https://autismawareness.com/wp-content/uploads/autism-awareness-logo-340-156-300x71.png
Rachel L. MacAulay
2016-08-23 17:28:27
2017-05-07 04:13:57
Myrtle Beach Airport Opens Sensory-Friendly 'Quiet Room'