Looking Back: What I've Learned Along the Way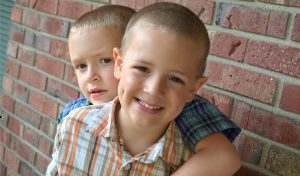 As I think back to the beginning of our life with autism, all I can say is that it has been one rollercoaster ride after another. I have fallen and gotten back up, time and time again. I've learned more than I ever thought would be possible from two little boys 30 years younger than me. It hasn't been easy, but through strength and courage we continue to move on, each and every day. It's really been what we have learned along the way that has gotten us to where we are today.
Hope is such a simple word, yet a huge part of our life. I've learned the real meaning of hope and how to cling to it every day.
I first realized that I had no other option than to turn to hope for a better tomorrow shortly after Andrew's second birthday. Andrew was two and Trenton was three. I had been sleep-deprived for almost three years by then, and the life I knew before autism was no longer in the rearview mirror. It was gone forever. I knew in my heart on that particular day that Andrew had autism. My mom had sent me a picture of Andrew's very long line of random items while she was watching him. He didn't want to do anything else that day except line items up. In that particular moment, I stopped what I was doing and mourned for Andrew. Then, a few minutes later, I turned to hope.
I never know what each day will bring or what challenges we will face that day. Some days are harder than others and some challenges are way more exhausting than others. However, we continue to hope for the best. This was very hard to do after Trenton's diagnosis, when I was trying to adjust to both the new diagnosis and our new life. But I learned that, if you can get past that point in your life and focus on hope, you will have a much brighter outlook on your new life despite the challenges.
While clinging to hope, I've learned that life is really all about the small things. They bring the biggest and brightest smile to not only my face, but to my sons' faces as well. The first time I truly realized how amazing the small things were was the day Trenton wanted a pancake. He was three years old and I was trying hard to get him to use a picture exchange system. He was upset and I couldn't figure out what he wanted. Then, he suddenly showed me the picture of a pancake. As you can guess, those pancakes were made immediately! He ate one and we all cheered! He had communicated what he wanted to eat to me for the first time.
That was the day that I realized my life would truly be all about the small things from then on. At one time in my life, I would have taken that for granted. But now, I don't take anything for granted, not even the small things.
As our journey goes on, I keep learning. I've learned so much along the way. I look forward to each and every thing that the boys teach me. Even though we have tiresome challenges daily, every single moment is truly amazing and beautiful with them. Our hope for a brighter tomorrow is one of the keys to helping us see just how beautiful we can make our own unique and challenging life better.

Angela Conrad is a freelance writer, mom to two boys on the autism spectrum, determined autism advocate, and fun-loving person. When she is not doing her advocacy work, she can be found managing her son's therapy schedules and all the other crazy things that life brings. She enjoys reading, exercising and helping others.

Latest posts by Angela Conrad (see all)
https://autismawareness.com/wp-content/uploads/Looking-Back-Angela-Conrad.jpg
347
388
Angela Conrad
https://autismawareness.com/wp-content/uploads/autism-awareness-logo-340-156-300x71.png
Angela Conrad
2016-10-10 00:45:36
2016-10-11 15:27:58
Looking Back: What I've Learned Along the Way