Life's a Beach, at Least for a Day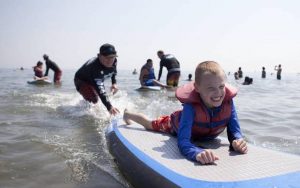 For those of us who love the ocean, nothing compares to the feelings of freedom and peace that it brings. Surfers Healing has been bringing that sense of freedom and peace to children with autism for 20 years now, with a series of surfing camps throughout the U.S., Puerto Rico, Mexico, and Australia.
Surfers Healing was started by Izzie (a World Champion longboard surfer) and Danielle Paskowitz, after they accidently discovered that their son Isaiah, who has autism, was calmed by the ocean after his father took him out on his surfboard. Since they started the organization in 1996, Surfers Healing has grown to help roughly 5,000 children annually through 25 separate events.
Surfers Healing's mission is to "enrich the lives of people living with autism by exposing them to the unique experience of surfing." Professional surfers from all over the world volunteer their services for the program. Children of all ages are brought into the ocean to learn the basics of surfing, with the younger kids held by the surfers, either upright or lying on the board. Some of the older kids even learn to surf on their own.
The camps don't just benefit the kids—parents who watch their children surfing a wave are often the most affected, with one mom saying that it was her son's "happiest day ever." As Surfers Healing explains on its web page: "Autism parents are always hearing about what their children cannot do. But at a Surfers Healing camp, it's all about what their kids can do."
Parents who think "there's no way my kid's going to be able to do that," suddenly see their child surfing. It's therapeutic and awe-inspiring, and incredibly moving. The day gives comfort and support to the parents, as the healing nature of the water works its magic. As one of the surf instructors explains, "A wave can change somebody's life. It's just a matter of introducing them to something as awesome as surfing."
The day "camps" are free and open to all registrants, but spaces fill up quickly. Check out their 2016 schedule here, and more about the organization here. Surf's up!

Avid reader, lapsed wanderer, reformed cynic, and sometime cyclist. Believes laughter really is the best medicine.

Latest posts by Rachel L. MacAulay (see all)
https://autismawareness.com/wp-content/uploads/Surfers4.jpg
318
415
Rachel L. MacAulay
https://autismawareness.com/wp-content/uploads/autism-awareness-logo-340-156-300x71.png
Rachel L. MacAulay
2016-08-19 18:40:06
2016-08-19 18:40:06
Life's a Beach, at Least for a Day