Lidl Trials Autism-Friendly 'Quiet Evenings'
A few Lidl supermarkets have joined the burgeoning movement of stores (and some game places, such as Chuck E. Cheese) adding an "autism-friendly" shopping time to their weekly or monthly schedules.
This newest addition to the growing list of these initiatives by shopping chains such as Tesco, Toys 'R' Us and Target, is worth noting because of the time its shopping hour will take place (as well as its duration). While many autistic adults and parents of autistic children have complained because the "typical" hour set aside for their exclusive shopping is in the early morning, Lidl shops in Ireland have announced that their autism-friendly shopping time—billed as autism-friendly "quiet evenings"—will occur from 6:00 to 8:00 p.m.
"My son is not keen on going to the shops as it is," explains Louise Ireland, a mother of three whose eldest is on the autism spectrum. "As an autism mum, I would love to see evening times (or times not so early in the morning), as they're just more suitable to our chaotic schedule."
Lidl will be trialing these shopping evenings in their Pottery Road (Dublin), Carrickmacross (Monaghan), and Patrick Street (Westmeath) locations on Tuesdays through the month of August. As is typical, lighting will be dimmed, music will be turned off, no store announcements will be made, and extra staff will be available for assistance. Additionally, shoppers with an Irish Autism Action ID can skip to the front of the checkout line (those without it will also receive help if needed). Lidl has also created this map to help kids get familiar—and comfortable—with the store.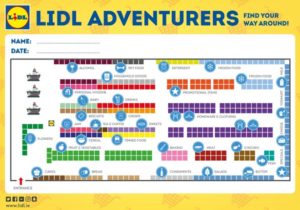 If the chain gets good feedback from customers, it may roll the program out to the rest of its Ireland stores and make it a permanent occurrence. It will be interesting to see whether their chosen evening hours may be at a time truly more friendly to those who need it.

Avid reader, lapsed wanderer, reformed cynic, and sometime cyclist. Believes laughter really is the best medicine.

Latest posts by Rachel L. MacAulay (see all)
https://autismawareness.com/wp-content/uploads/image-post-Lidl-autism-friendly-shopping-hours1.jpg
528
800
Rachel L. MacAulay
https://autismawareness.com/wp-content/uploads/autism-awareness-logo-340-156-300x71.png
Rachel L. MacAulay
2017-08-03 16:09:53
2017-08-03 16:09:53
Lidl Trials Autism-Friendly 'Quiet Evenings'