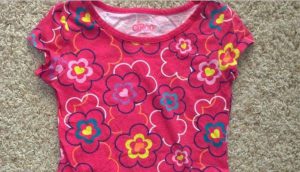 What happens when your child fixates on something and nothing else will do? If you're smart, you post on social media and hope that—somehow, some way—your words are heard by a larger audience.
That's exactly what happened to Deborah Skouson last week, when she begged her 500+ friends on Facebook for help in finding more "pink flower" shirts for her daughter, Cami. Cami has autism, and has been wearing that same shirt for nearly five years now. The shirt was sold at Target in 2011-2012 under its Circo label, and is no longer made. Deborah had bought a few of them on eBay, but was unable to find any more and the one Cami currently had was wearing out. Time was of the essence.
As Deborah later explained, "Cami adores this shirt, and it brings her a lot of comfort. She does not wear this shirt exclusively, but always puts it on after school, and wears it to bed."
The story got picked up and shared six days later by Frank Somerville, a local news anchor with nearly 485,000 Facebook followers, and it's then that Deborah's plea found its wider audience. The outpouring was amazing, and nearly instantaneous. By Deborah's last count, 73 shirts in assorted sizes are being mailed to her from as far away as Germany.
In addition, one woman contacted her and asked Deborah to send her any of the shirts that were outgrown or too small, so that she could make a teddy bear for Cami out of them. The bear will serve as a sensory comfort to her.
The power of the Internet. Sometimes it's simply amazing.

Avid reader, lapsed wanderer, reformed cynic, and sometime cyclist. Believes laughter really is the best medicine.

Latest posts by Rachel L. MacAulay (see all)
https://autismawareness.com/wp-content/uploads/Cami1.jpg
1612
1536
Rachel L. MacAulay
https://autismawareness.com/wp-content/uploads/autism-awareness-logo-340-156-300x71.png
Rachel L. MacAulay
2016-08-15 22:57:09
2016-08-16 00:51:11
Her Daughter Was Fixated on This Shirt. When It Wore Out, She Took to the Internet for Help.