Dallas Zoo Reaches Out to Boy Who Said He Has No Friends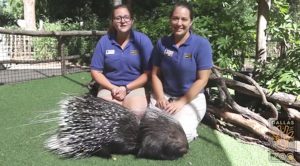 Last week, one New Jersey father took to Facebook to share his son Christopher's "About Me" project for his school's Open House night for parents. Christopher, who has autism, filled out the project questions to include his favorite food, sport, TV show, and more. However, where it asked for the names of his friends, Christopher wrote "No one."
By sharing the story, Christopher's dad implored those reading it to talk to their children and have a real conversation about inclusion and empathy, and understanding. He asked that we help make stories of kids being kind the norm, rather than the exception.
This week, the Dallas Zoo — although it's hundreds of miles away from Christopher in New Jersey — posted a video meant specifically for him. In it, two zookeepers, Sam Herber and Mary Marvin, extend some "Dallas love" to Christopher, with the help of an African porcupine. The animal, they explain, has a bad reputation because of its quills, but it's actually quite friendly when you get to know it.
"We would love to see you come visit us here at the Dallas Zoo where you have over 300 employees and over 2,000 animals that would really love to get to know you and to be your friend," states Herber in the video. "We would be honored to be friends with you, Christopher."

Avid reader, lapsed wanderer, reformed cynic, and sometime cyclist. Believes laughter really is the best medicine.

Latest posts by Rachel L. MacAulay (see all)
https://autismawareness.com/wp-content/uploads/Dallas-Zoo2.jpg
2250
1425
Rachel L. MacAulay
https://autismawareness.com/wp-content/uploads/autism-awareness-logo-340-156-300x71.png
Rachel L. MacAulay
2016-10-04 20:16:45
2016-10-04 20:16:45
Dallas Zoo Reaches Out to Boy Who Said He Has No Friends