Food and Autism: My Child's Three Favorite Foods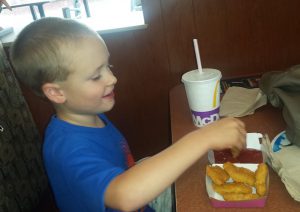 Food can be a very challenging part of your child's ASD diagnosis. It is for one of my sons. He has a very limited menu and it continues to stay that way.
He will often eat the same thing for three to four months and then move on to another item. Then he will eat that one over and over for the next three to four months, and so forth.  A few items stick around all the time and he will eat them continuously. These items become his snacks.
His snack foods often switch from chips to fruit roll-ups to fruit snacks. I have to be stocked up on these items at all times. I buy huge quantities of them weekly at the grocery store. I will never forget the day a young high school boy was checking me out and, after he scanned the 10th box of fruit roll-ups, he stopped and looked at me and said, "Is there a good deal on those or something?" It was hard not to laugh. I am sure that young high school boy could not even fathom if I tried to explain it all to him. I just simply smiled and said truthfully, "Oh my son just loves them."
Besides snacks, there are three main food items that my son will eat for breakfast, lunch and dinner. I wouldn't be surprised if it was the same three foods in your house.
McDonald's Chicken McNuggets
One food item that he is stuck on and won't give up is McDonald's chicken nuggets and they have to be fresh. I can always be found at the McDonald's drive-thru at least twice a day, seven days a week. I have come to know each and every worker there. I'm not going to lie — in the beginning it was embarrassing. I'm sure they thought, "Wow. This woman loves her chicken nuggets." I often wondered if they thought I was just lazy and never wanted to cook. Whatever they think, I will never know, and honestly, I don't care. I am so tired and exhausted on most day that I just want the 10-piece chicken nuggets before the meltdown starts.
Pizza
Another phase he goes through is pizza. His loves his pizza and he will generally eat pizza from almost any restaurant. However, do not give him a frozen pizza, as he will often turn his nose up at that. I can often be found walking into Papa John's for a large cheese pizza. Once again, I am on great terms with the staff. One day, the manager said, "Boy, you are my biggest customer." I tried to explain to him that it was the only thing my child with autism would eat. I could tell he had no understanding of why I had to buy pizza every two days, but in the end, I didn't care. I just needed a pizza for my son.
Spaghetti
The other big food item of choice is spaghetti. Thank goodness, I can make this for him! During these times, I think I keep the grocery store in business because I buy noodles and sauce in large quantities, weekly.
A lot of his rigid food habits are part of his autism struggles. All in all, his favorite foods are McDonald's chicken nuggets, pizza, spaghetti, chips, fruit roll-ups, and fruit snacks. I have to be one prepared mother every single day to make sure I have all of these items on hand at all times. I have learned the hard way what happens if I don't have his favorite item of food for the day — I would prefer to never find out again.

Angela Conrad is a freelance writer, mom to two boys on the autism spectrum, determined autism advocate, and fun-loving person. When she is not doing her advocacy work, she can be found managing her son's therapy schedules and all the other crazy things that life brings. She enjoys reading, exercising and helping others.

Latest posts by Angela Conrad (see all)
https://autismawareness.com/wp-content/uploads/McDonalds-Drive-Thru.jpg
601
569
Angela Conrad
https://autismawareness.com/wp-content/uploads/autism-awareness-logo-340-156-300x71.png
Angela Conrad
2016-10-04 20:28:26
2016-10-06 14:39:35
Food and Autism: My Child's Three Favorite Foods