When Pigs Fly: Airport Introduces First Therapy Pig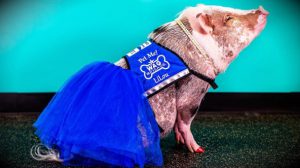 Visitors to San Francisco International Airport may already be familiar with the airport's Wag Brigade, launched in partnership with the ASPCA three years ago. The Wag Brigade consists of a variety of friendly dogs of many different breeds and sizes, all certified by the ASPCA's Animal Assisted Therapy (AAT) Program to serve as therapy animals. These furry friends wear designated "Pet Me" vests and roam the terminals with their handlers, helping to bring calm among the chaos of the airport.
While you may have met one or many of these comforting canines, chances are that you haven't yet met the newest member of the Wag Brigade—LiLou—who made her debut at the airport just last week.
LiLou is a spotted Juliana pig, and is the first certified therapy pig at the airport. She's being treated like a wandering celebrity by all who meet her. Strolling the halls with her tutu or airline pilot costume and polished toenails, LiLou is more than just an "ordinary" pig. She's hypoallergenic and multi-talented: able to dance, play a toy piano, stand on her back hooves, and more.
Whether somebody has sensory process disorders, developmental challenges, a fear of flying, or just wants to say "Hi" to LiLou, she's there to calm nervous flyers and interact with everybody. LiLou doesn't yet have a schedule, so her visits are currently a surprise. But if you're flying to or from San Francisco, chances are you'll meet another member of the Wag Brigade, there to bring a much-appreciated calming presence. And you can follow LiLou on Instagram at @lilou_sfpig.

Avid reader, lapsed wanderer, reformed cynic, and sometime cyclist. Believes laughter really is the best medicine.

Latest posts by Rachel L. MacAulay (see all)
https://autismawareness.com/wp-content/uploads/image-post-airport-therapy-pig1.jpg
365
330
Rachel L. MacAulay
https://autismawareness.com/wp-content/uploads/autism-awareness-logo-340-156-300x71.png
Rachel L. MacAulay
2016-12-12 01:53:52
2016-12-12 02:07:34
When Pigs Fly: Airport Introduces First Therapy Pig