This Company Went Above and Beyond to Help an Autistic Child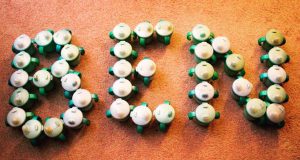 Marc Carter's 14 year-old son, Ben, has severe autism. Ever since he was two, Ben has insisted on drinking out of the same sippy cup. He simply won't take his liquids out of any other cup or glass, and has been hospitalized for dehydration in the past because of this. While this rigidity is obviously a problem, the fact that the sippy cup is wearing out is an even bigger problem. So Marc decided to use social media to try to get a replacement supply of the cups to avert a future disaster.
As Marc first explained:
"Ben is 14 and has severe autism, he's non-verbal and has very little understanding. Since the age of 2 he has drunk exclusively from a little blue Tommee Tippee two handled cup.

Fortunately about 3 years ago we managed to replace this very old and disintegrating cup with a newer one – cup part first, lid a few weeks later. He was suspicious but we survived.

No big deal right? We can just get something else! At that age he should be drinking out of a glass!

You'd think eh. Ben hasn't drunk at school since the age of 5, he doesn't drink outside of the house so we can't go anywhere. People say he will drink when he's thirsty, but two emergency trips to A&E with severe dehydration say otherwise.

These cups are not made anymore, the replacements are all new and fancy, we've tried them, Ben throws them at us. Maybe you have one stuck at the back of a cupboard? It can be used, that's fine, the one he has doesn't have long left. In all honesty we are really worried what will happen if it falls apart completely. Can you help us? Please share this far and wide, you can find me on twitter @GrumpyCarer. We will happily pay for the cup and postage, and we would love more than one if we can find them."
His tweet, with the hashtag #CupForBen, was retweeted more than 1,200 times and his story was spread by major news networks. While many offers of replacements came in, most of them weren't the right cup, unfortunately. And then Tommee Tippee, the manufacturer of the original sippy cup, stepped up to the plate.
Company staff in Hong Kong, France, the U.S. and Australia looking for the cup in their warehouses eventually found the original mold design. As they explain on their website, the company not only helped coordinate the delivery of cups from people all over the world, they're also going to produce 500 new cups for Ben to ensure that he never runs out of the only cup he'll use.
The company said, "It was clear from the beginning that this wasn't just a cup for Ben, it was a lifeline for him."

Avid reader, lapsed wanderer, reformed cynic, and sometime cyclist. Believes laughter really is the best medicine.

Latest posts by Rachel L. MacAulay (see all)
https://autismawareness.com/wp-content/uploads/Sippy-Cup2.jpg
410
461
Rachel L. MacAulay
https://autismawareness.com/wp-content/uploads/autism-awareness-logo-340-156-300x71.png
Rachel L. MacAulay
2016-12-01 02:58:40
2016-12-02 14:49:00
This Company Went Above and Beyond to Help an Autistic Child