Teenage Chef Cooks Up Plan to Help Others With Autism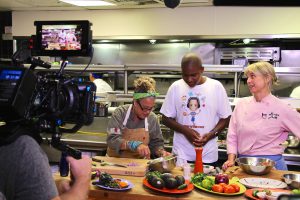 Like other children with autism, 15-year-old Chase Bailey had some major food aversions when he was younger. According to his mom, he would only "eat five different foods." On top of that, he had severe speech delays and developmental and physical issues that led doctors to tell his mother that he would likely never speak or be able to take care of himself.
However, that's not what happened. To quote from Chase's "Chase 'N Yur Face" website, "With the help of family, friends, and some other amazing people, I have been able to beat the odds, overcome many of the challenges, and do the things that I dream about."
When Chase was about eight years old, he discovered the Cooking Channel, and became fascinated by the chefs and the foods that they prepared. The television shows introduced him to foods without forcing him to have to taste, smell, or touch them. Soon, he began figuring out for himself how he would change a recipe, and then he began creating his own. His mother explained, "food became his world—he started overcoming his aversions and even started trying exotic foods."
Chase decided that he wanted to become a chef, with his own cooking show. His mother encouraged him not to wait until he was older, and helped him create the "Chase 'N Yur Face" cooking show, which appears on YouTube. The program gained a wider audience as Chase invited chefs and foodies to share their recipes and teach him their cooking skills on the show. He also added his own sense of humor to the episodes.
In 2015, he was invited to speak (and cook) at the Autism Speaks Los Angeles Celebrity Chef Gala. He then appeared on The Chew with Mario Batali. That led to the chance to develop his own cookbook, which contains his recipes and jokes, and an endorsement by Batali.
Chase wanted to use his newfound fame to help other people like him achieve their dreams, so he started the Chase Yur Dreams Foundation. The purpose of the non-profit is to assist people with autism who are working toward their goal of living independently. It will be funded by sales of The Official Chase 'N Yur Face Cookbook.
Chase is not even close to stopping there. He's got big plans for the future, including owning his own restaurants and hosting "a comedy cooking show on television." We have no doubt that he'll make all of his dreams reality.

Avid reader, lapsed wanderer, reformed cynic, and sometime cyclist. Believes laughter really is the best medicine.

Latest posts by Rachel L. MacAulay (see all)
https://autismawareness.com/wp-content/uploads/Chase-Bailey.jpg
391
373
Rachel L. MacAulay
https://autismawareness.com/wp-content/uploads/autism-awareness-logo-340-156-300x71.png
Rachel L. MacAulay
2016-11-09 02:44:48
2016-11-09 02:44:48
Teenage Chef Cooks Up Plan to Help Others With Autism