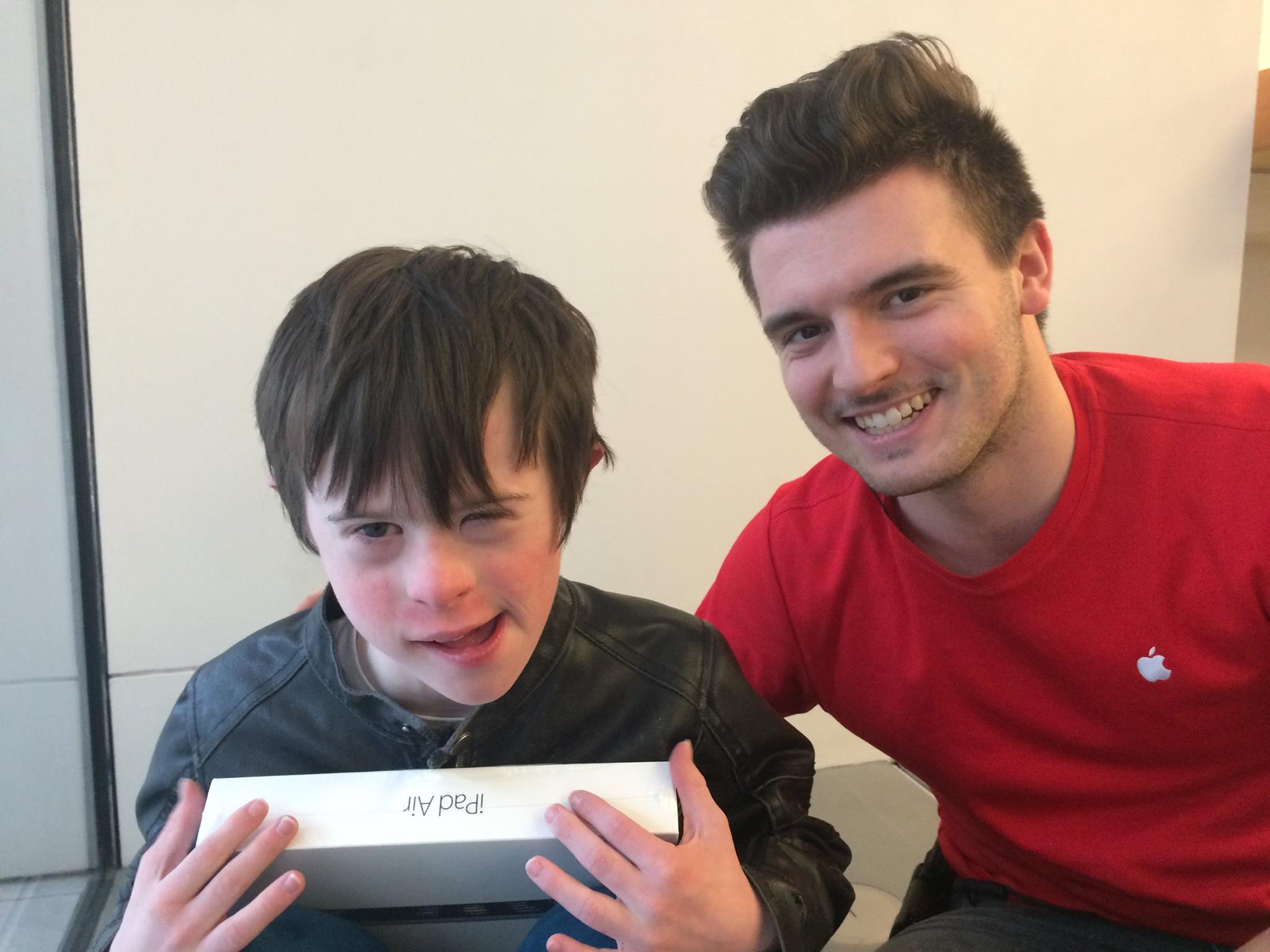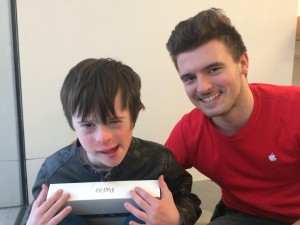 Special needs parents know how difficult it can be to take their child to so many places that other parents don't think twice about going to with their kids. This mom of James, a 10-year-old who's been diagnosed with Down's Syndrome and Autism, recently posted on her Facebook page the story of an outing with her son to get a new iPad. When the trip to the Apple store started to go downhill, an employee stepped into save the day.
"Because James was born with Down Syndrome, and at six-years-old was diagnosed with Autism, we use his iPad everyday as a learning tool," the mom, LynnMarie, wrote. After years of use, the iPad no longer worked and her own iPhone, which had taken the place of the iPad, was "limping along." A friend got her in touch with a charity–Fiona Rose Murphey Foundation Charitable Trust–which offered to buy James a new iPad. Hence, the outing to the Apple Store in Green Hills, near Nashville, Tennessee.
While they were shopping for the iPad, James was distracted by something in the mall and, as kids are prone to do, he ran off to investigate. Unfortunately, he ran full-tilt into the store's plate glass wall in his haste to exit. As LynnMarie sat on the floor, cradling her son, employee Andrew Wall came over to see if James was alright and to offer his help. LynnMarie replied that James would be okay, but that they'd come to the store to purchase an iPad and then asked Andrew if he'd help them buy it and set it up, "down here on the floor?"
LynnMarie went on to explain, "And so he did. Your awesome employee sat with James on the floor of the store and set up the new iPad. There are no words to accurately describe how grateful I am that he took the time to 'meet us right where we were.' He didn't have to sit down on the floor with us. He could have easily waited for us to stand. Could have easily waited for us to come back another day. But he hung out with us in the midst of our pain. He even got a fist bump from James, and I snapped this photo."
At first, LynnMarie took to Facebook in order to tell the Apple store how wonderful this employee was and to find out his name. Both have since been accomplished, and we're proud to pass on not only this wonderful story, but also the name of this kindhearted and generous soul. As LynnMarie went on to post:
"Life is a learning journey. And I walked away from this experience with the reminder to always meet people where they are at. It's so easy to be so focused on our own mission or plan (or sale) that we fail to see what people really need. I long to be better at this. I long to not be so self-absorbed that I never miss an opportunity to love exactly like someone needs in the moment."
Thank you, Andrew Wall, for meeting James where he was, and for turning around what could have been an awful experience into an amazing memory.
https://autismawareness.com/wp-content/uploads/Apple-employee.jpg
1536
2048
Rachel L. MacAulay
https://autismawareness.com/wp-content/uploads/autism-awareness-logo-340-156-300x71.png
Rachel L. MacAulay
2016-01-25 18:44:43
2016-03-08 04:16:41
To the Apple Store Employee Who Went Above and Beyond