Finding the Beauty – An Autism Story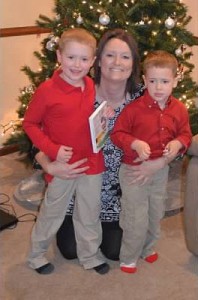 Autism is hard, without a doubt. I'm sure many of you would agree to that. As parents of children with autism, we face a wide range of emotions and challenges daily. There are times when I feel like I've been beat to the curb. However, at other times I couldn't be more overjoyed by my children.
Too often in life, people focus on the "negative" things. When it comes to autism, it's very easy to get caught up in the hustle and bustle of life with autism. For example, it is by no means ever calm and quiet in my house. Even though I have one child who is non-verbal, that simply doesn't mean that he is quiet! He, along with my other son with autism who is verbal and loves to talk; well, our house isn't exactly the place you go to in order to relax. I'm normally chasing Trenton around the house, trying to keep him from climbing up my walls (literally!), while Andrew is chasing after me, asking me every detailed question that he can come up with.
It's easy to focus on all the tantrums, meltdowns and therapy schedules. Of course, it's upsetting when we can't participate in extended family functions or all the community activities that go on throughout the year.
Let's not forget all the times we've been kicked at when it is "potty" time. All the minutes and hours throughout the day and week that we spend battling simple daily tasks just gets exhausting. Natural, daily functions are very complicated, time-consuming and often lifelong difficulties for children like mine.
The stress and overwhelming feelings are very easy to get caught up in as parents of children with autism. We often find ourselves not only lonely and jealous of people who live life without our challenges, but we often find ourselves battling a variety of other emotions daily.
Nonetheless, we have to stay positive and not forget to look at the beauty that's right before our eyes.
Parents of children with autism and other special needs are so very blessed, if only you're able to look beyond the difficulties. I have learned to appreciate everything in this life, both big and small. My sons have taught me to be thankful for things that I, more than likely, never would have appreciated before autism.
My children, just like yours, have so much to offer this world. You can find many blessing in your child, whether they're mildly on the spectrum or at the most severe place on the spectrum. Our children are just like a present: It may take awhile to unwrap it, but there's a beautiful gift inside when you get there. It is the most precious gift that you will ever receive.
I am not saying it's easy. It's by no means an easy job parenting children with autism. If you're like me, you often function on very little sleep because your child was up all night. You may find yourself at your lowest point on certain days and that's okay. We're allowed to have pity parties, but try not to dwell on it. Find the beauty in your child. God granted us our children for a reason. I am sure none of us dreamed about having children with autism when we were expecting our children. However, God had different plans in store for us than we originally had.
My children have not only become the best teachers that I've ever known, but they're also the most beautiful, innocent people that I've ever met. They are true examples of what all of our souls need to be like.
As I said before, I know how easy it is to get consumed with the difficulties of the world of autism. However, don't let that keep you from seeing the beauty of it, too. If you can see the beauty and opportunities that are right before your eyes, then you will never again wish for a life that could have been.
Keep your heads held high, fellow autism parents! We don't have an easy job, but it is a beautiful path!
——————————————————–
Angela and her family reside in Terre Haute, Indiana, where they moved to get more help for her son with severe autism. She was born and raised in a small town in southern Illinois where her love for animals and helping others blossomed.
She enjoys sharing the honest and real side of autism through her writing. Her writing may not apply to every family with a child with autism, but it is sure to apply to the families raising children on the severe end of the spectrum.
To read more of Angela's journey please visit her website or like her Facebook page.

Angela Conrad is a freelance writer, mom to two boys on the autism spectrum, determined autism advocate, and fun-loving person. When she is not doing her advocacy work, she can be found managing her son's therapy schedules and all the other crazy things that life brings. She enjoys reading, exercising and helping others.

Latest posts by Angela Conrad (see all)
https://autismawareness.com/wp-content/uploads/image-finding-the-beauty-600.jpg
315
600
Angela Conrad
https://autismawareness.com/wp-content/uploads/autism-awareness-logo-340-156-300x71.png
Angela Conrad
2016-01-08 06:45:02
2016-03-08 04:16:41
Finding the Beauty – An Autism Story